Ultra-Sil on the Go – a fabric story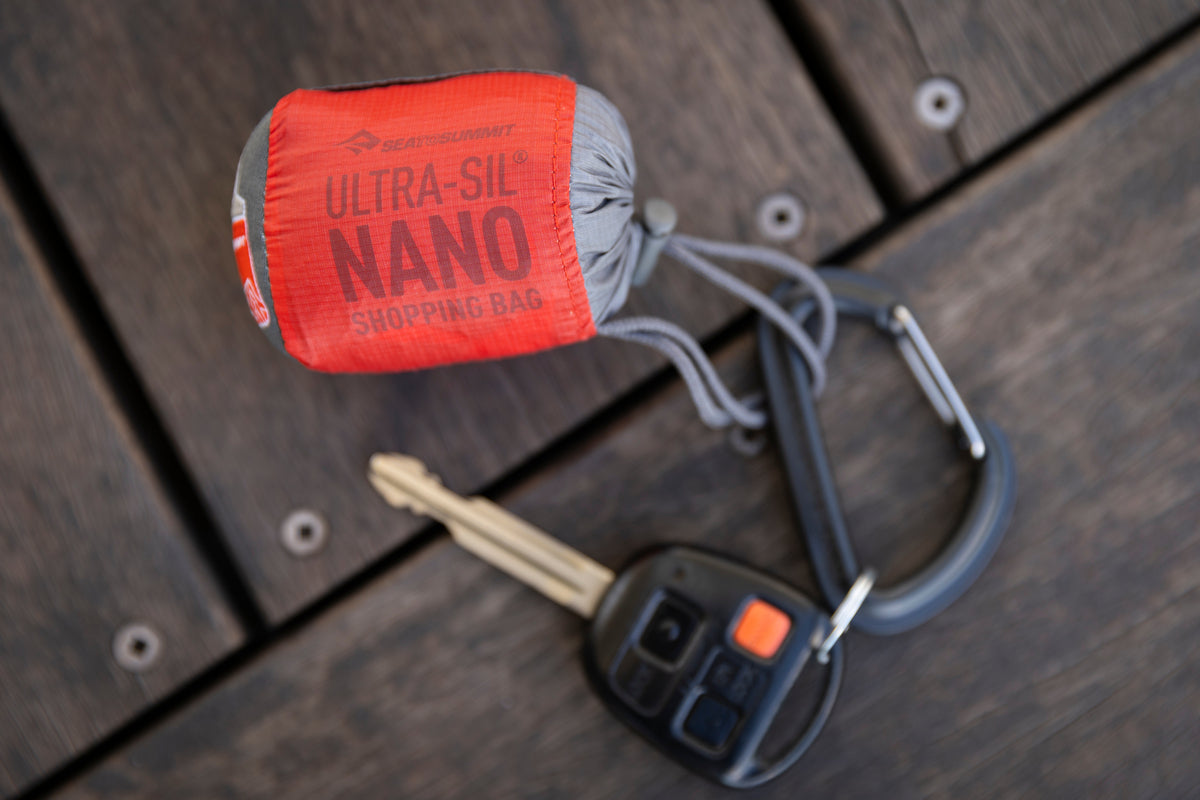 Picture this: you're at a produce market in Denia, Spain. Beautiful warm temperatures; shorts-and-T-shirt weather. On all sides, fruit and vegetables are piled high in colorful profusion – ideal ingredients for a dinner on the patio back at the condo you've rented. If only you could carry them home…
From out of the pocket of your shirt you pull a stuff sack, no bigger than a mobile phone. The package unfolds to reveal a full-size daypack; you unzip the main compartment and begin to pack several kilos of groceries, while the vendor stares skeptically at the gossamer-thin fabric. Todo es bueno! you say. After all, it's a Sea to Summit Ultra-Sil™ Day Pack…
 The question is, how does an Ultra-Sil™ Daypack, or Shopping Bag, or Sling Bag carry heavy loads while weighing no more than a typical energy bar? The secret is twofold: it's down to the construction and the amazing properties of Ultra-Sil™ fabric.
 The construction is exquisite: handles or straps run through two seams and are bartacked in both (a bartack is a zigzag anchoring stitch), while other load-bearing seams are also bartacked.
 And the fabric? Well, that's exquisite, too. It begins with featherweight 30 Denier Cordura yarn. To give you an indication of how light this is, Denier is a French measurement of 9000 meters of the yarn, which in this case would weigh a mere 30 grams. These yarns are woven together incredibly tightly – the thread count is 240T (which means 240 threads in a square inch). In broad terms, the higher the thread count of a fabric, the greater the tensile strength and abrasion resistance (more threads spread/deflect the load). Then, the fabric is siliconized. Silicone is a flexible, pliable medium which allows the individual fibers to stretch. In comparison, a polyurethane coating – the most commonly used waterproofing medium applied to fabrics – is harder and less elastic. The elasticity of the siliconization means that those fibers can stretch sustain a much greater load before one of them breaks – which is how a tear begins.
So: the combination of this amazing fabric and Sea to Summit's attention to detail in the way the products are built allows them to carry surprisingly heavy loads. Here is a picture of Sherry Propster from Backpacker's Get Out More Tour being lifted off the ground in the Ultra-Sil™ Shopping Bag.
(Bear in mind that the incredible tensile strength of the fabric shouldn't be confused with super-high abrasion resistance or puncture resistance: the UltraSil On The Go products shouldn't be dragged across rough surfaces or exposed to sharp objects).
But – if you find yourself in a farmers market, or out on a spontaneous day hike, or heading for the beach, or packing your carry-on essentials, or in any one of a thousand situations – make sure you have an UltraSil On the Go bag handy. Todo es bueno…