Sleeping Pads
We challenged every aspect of conventional wisdom when we created our award-winning lineup of innovative air and self-inflating mats. Because when it comes to a great night's sleep you can't rest on your reputation.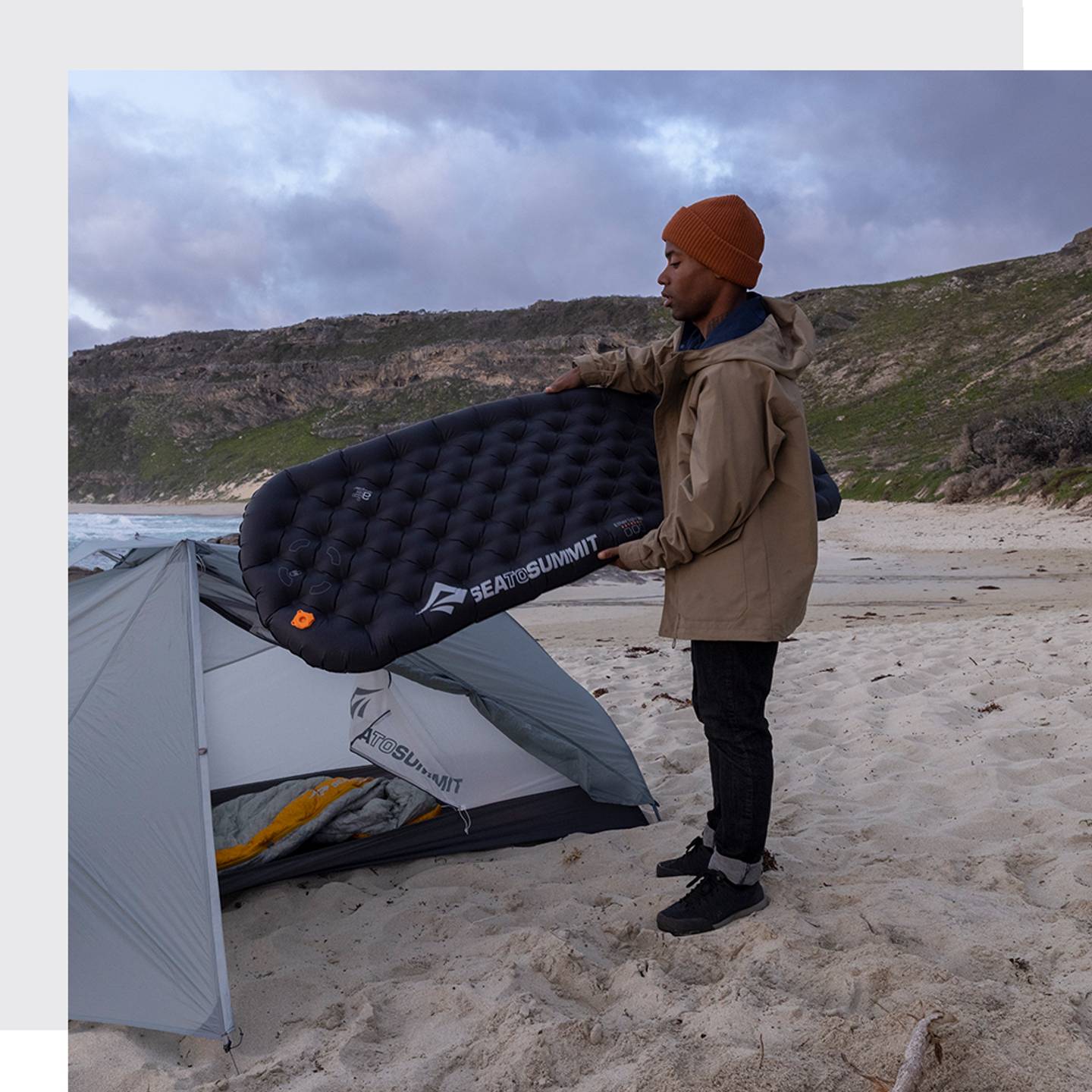 Air Sprung Cell & Self-Inflating
Sleeping Pads
Perfect for camping or hiking anywhere in the world, our award-winning air and self-inflating sleeping pads are the foundation of a good night's sleep. The secret behind our air sleeping pads is the Air Sprung Cell technology. Like a pocket-spring mattress, the individual air pockets conform to your body as you lay on the pad to provide incredible comfort and support while you sleep.

To make our compact, self-inflating sleeping pads incredibly packable, comfortable and warm, we developed a Delta Core and Delta Core-V process—which strategically removes cores of PU foam using body mapping (which is different for unisex and Women's specific pads)

Our pads have an enviable record for reliability - Air Sprung Cell pads utilize a tough face fabric, a lamination technology which Sea to Summit pioneered in the outdoor industry, and really strong RF-welds. All sleeping pads are pressure tested for 24 hours before they leave the factory. Insulation value is tested according to the ASTM R-Value standard. All of which means you can rest easy.

All our sleeping pads also come with our PillowLock System, which keeps your Aeros pillow in place for a slip-free sleep.

Find the best camping sleeping pad for your next adventure online above. FREE shipping for orders over $50.
Frequently Asked questions
What are the different kinds of sleeping pads?

Two main types: self-inflating pads (foam core draws itself full of air when valve is opened) and air pads (need to be inflated).

Self-inflating Sleeping Pads: comfortable, relatively inexpensive but heavier and bulkier than air pads
Air Sleeping Pads: lighter, smaller but higher cost



What is a "pump sack"?

A pump sack is an inflator bag which can be connected to an air sleeping pad for quick and easy set up. Sea to Summit air pads have a pump sack which is integrated into the stuff sack. The pump sack helps with easy inflation and reduces moisture from condensation in the sleeping pad.
How thick should a sleeping pad be?

In a self-inflating sleeping pad, the thicker the foam core, the more comfortable it is. 2" is comfortable, 3" is luxurious. In an air pad, stability (not thickness) is key. The more points of suspension, the more stable the pad.
How do I care for my sleeping pad?

Store a sleeping pad with the valve open to dry out any moisture from condensed breath. Store the pad unrolled (perhaps folded once or twice) so the foam of a self-inflating pad or the insulation of an air pad is not compressed.
How do I keep a sleeping pad from sliding?

Certain tent floors are slippery - if your mat slides, add some squares of (3M) non-slip tape to the hip/shoulder areas.