Sleeping Bags
We offer a range of sleeping bags from backpacking ultralight to car-camping comfort. Built for all seasons and designed for people of all shapes and sizes. Find the bag that really fits you – and fits your adventure.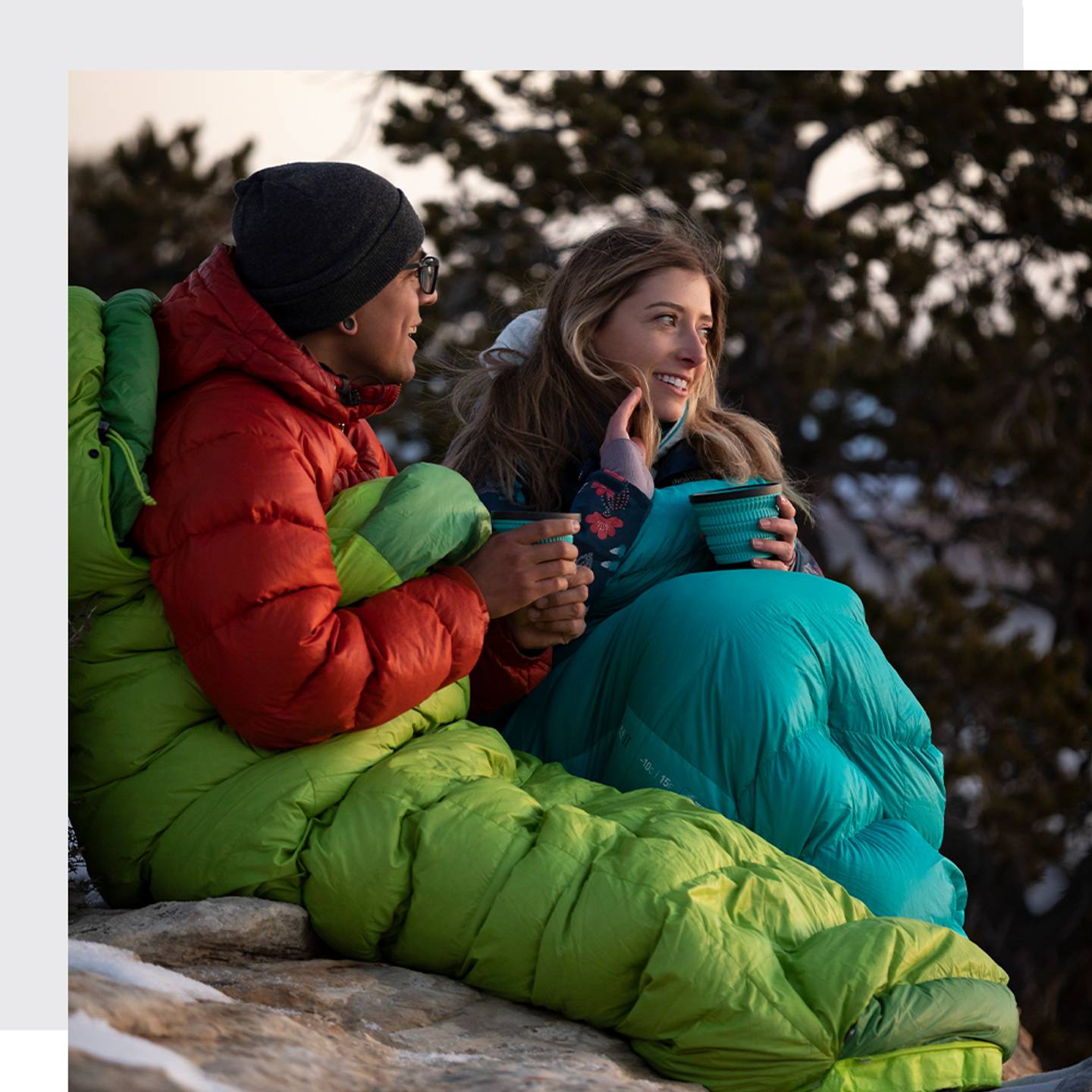 Lightweight technical
Camping & Hiking Sleeping Bags
Our award-winning technical synthetic and down sleeping bags, quilts and comforters are engineered to help you get a better night's sleep outdoors.
Our lineup includes models that are ideal for camping, hiking and travel, our Sea to Summit sleeping bags are made from high-quality lightweight materials, Responsible Down Standard down and premium synthetic insulation, providing superior comfort, warmth, packability and versatility.

We offer sleeping bags and quilts that are ultralight and incredibly packable for the weight-conscious end user. Other models are designed for comfort and versatility – they include the Free-Flow Zip System which allows for more ventilation options than any other performance sleeping bag, plus Zip Coupling, which allows you to pair two bags together.

Our women's specific sleeping bags offer extra warmth where it's needed and a shape that's perfect for side sleeping.
No matter where your next adventure or travel takes you, we have the perfect sleep solution for you.
Browse our range of ultra-lightweight, outdoor and camping sleeping bags above and get FREE shipping on orders over $50.
.
Frequently Asked questions
What's the difference between a synthetic and down sleeping bag?

Synthetic Sleeping Bags: still insulates when wet. Up-front cost is lower, but heavier and bulkier and have a shorter lifespan.

Down Sleeping Bags: not ideal in very wet environments. Higher up-front cost, but lighter, packs smaller and lasts much longer.
Can you sleep on your side in mummy sleeping bag?

The cut of mummy sleeping bags varies between brands - some are really tight. Sea to Summit Spark & Flame fit snugly but still allow side sleeping. Ascent, Altitude, Trek, Journey, Traverse and Venture sleeping bags have a broader mummy cut that is perfect for side sleepers.
Is this sleeping bag machine washable?

Do not wash a sleeping bag in a top-loader washing machine - a front-loader with a wool or silk program is OK. Use down soap (supermarket detergent residue sticks insulation fibers together). Dry the bag in a dryer (cool or warm) with a couple of clean tennis balls.
How do I care for/ store my sleeping bag?

Make sure your sleeping bag is completely dry before storing (in a cool, dry place) in a bag or pouch that will allow the bag to loft up. Pro tip - use a liner to reduce frequency of washing.
How to pack a sleeping bag in a backpack?

Pack bulkier sleeping bags in a compression sack (compression dry bag for wet environments). Pack compact sleeping bags in an eVac Dry Bag. Pro-tip: always have your sleeping bag inside your pack at the bottom: mounted externally, they can snag on branches.