Explorer Tales: An Interview with Wild Devon Chefs, Ben and Andy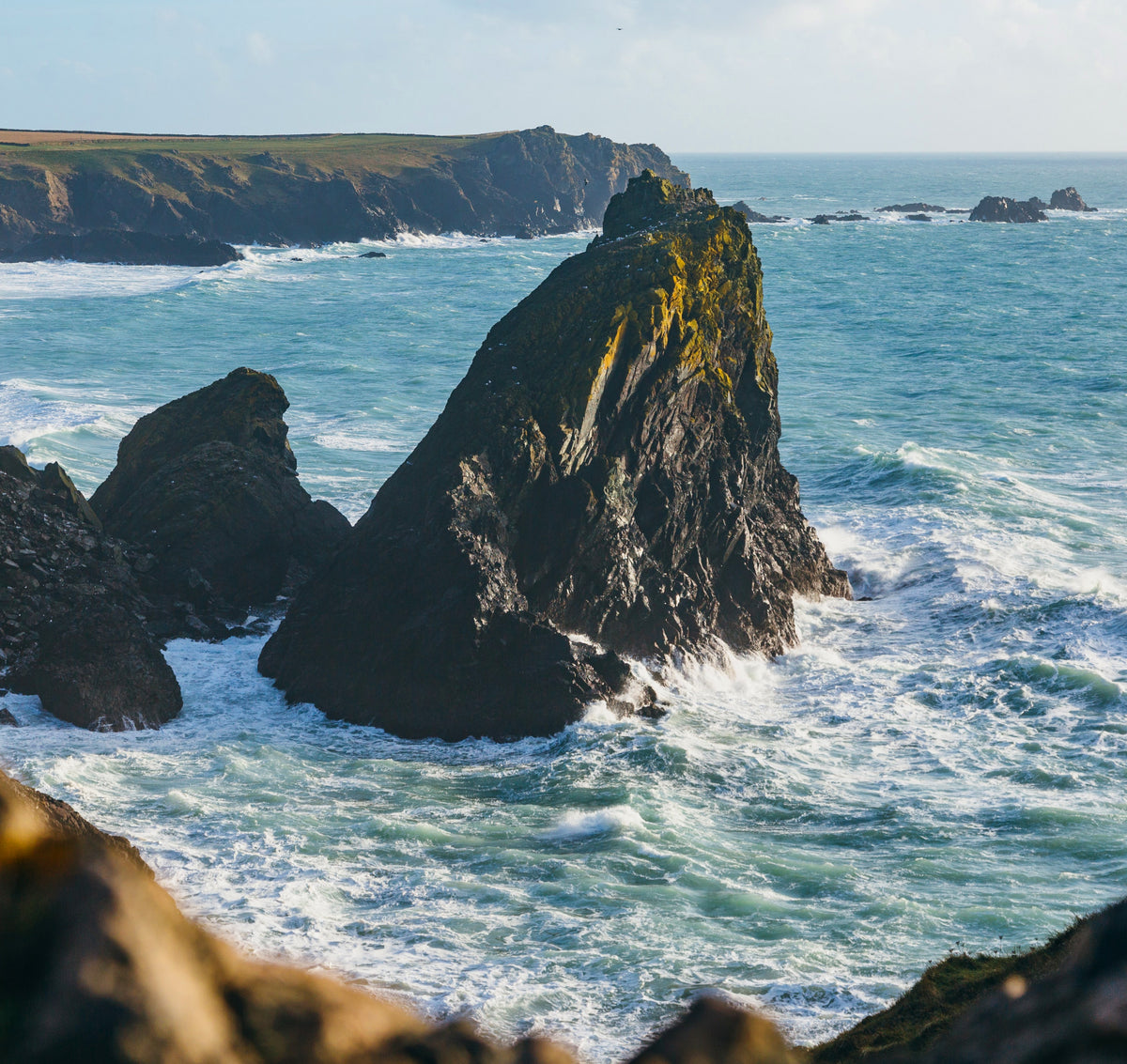 Tell us a little bit about yourself. Who you are, where you're based, what you do for a living and any other important details.
Ben: I was born in Devon and Andy was born in Sheffield. We both went on to train as chefs in London. Now, between us we have 37 years experience as chefs, from Michelin star to 5 star hotels and have travelled the world cooking! We own a catering company down in Plymouth, Devon called Four Elements Catering. We started Wild Chefs Devon to get more in touch with nature.

What is your relationship to the outdoors and outdoor adventures?
Ben: I grew up on Dartmoor - the moorland here was my playground. There's always a reason to get out on the moors, be that hiking, climbing, wild camping, etc. I currently volunteer with Dartmoor Rescue Group to deepen my knowledge of Dartmoor and survival techniques. There is always so much to learn and do in Devon and Cornwall.
Andy: I have actually only recently found this great love for the outdoors. Fortunately it helps being best buds with an outdoor fanatic (Ben). I'm learning the ropes quickly and now cannot get enough of it all. FYI, if you meet Ben, his outdoor enthusiasm is contagious - so don't be surprised if you find yourself buying new hiking equipment after speaking with him.
What is your relationship to cooking, food, and culture?
A large chunk of our lives we have spent working abroad -  from Australia to Greece, France and Argentina, just to name a few. Food is one of the universals of life - it's a great way of breaking the ice and bonding with people from all over the world. We have always been chefs, working long hours, meeting amazing people - we really appreciate great food, locally sourced ingredients and frequently trying something new.
How is cooking outdoors a unique experience and what are the biggest draw cards for outdoor cooking?
Having worked for many years in high pressure kitchens, the tranquillity of cooking outdoors is, well, a breath of fresh air. You don't rush starting a fire, nurturing it into life, and allowing it to dance whilst you prep your ingredients. It is very down to earth and relaxing, smelling a little smoke coming off the fire, listening to the crack and pop whilst sitting back and absorbing the peace from your surroundings.
What is unique and special about Devon and Cornwall? Tell us a little bit about the landscape, climate and foods suited to this part of the world.
Though it is quite a large geographical county, both Devon and Cornwall have a lovely mix between coastal paths and granite moorland. Due to there being so many great places to visit outdoors here, there is not too much space between great  spots. We could start a day on a beautiful sandy beach, enjoying the crashing waves and by foot, and later be spending our evening watching the sunset from the top of a Dartmoor tor.
We were really sad to see the results of the recent legal challenges in our area. Particularly during the off-season, you can get a whole tor to yourself - no one in sight, where you feel on top of the world. It is magical. Hopefully we will be able to continue wild camping on Dartmoor for generations to come.
The High Court here has recently declared there is no legal right to backpack camp on Dartmoor commons. Dartmoor National Park have sought permission to appeal this decision and have secured a new permissive system which allows people to continue wild camping. Dartmoor National Park is still the only place in England where officially you can still wild camp without landowner permission. Do make sure to check the Dartmoor National Park website to check their permissive map if you are wanting to wild camp here, there could be unfortunate changes which might impact your plans due to the current legal turmoil concerning wild backpacking here.
Food wise, we have access to the best seafood, having some of the biggest fish markets in the UK on our doorstep. We also have wonderful organic meat that grazed on the moorland, have loads of wild game, and also some great potatoes. We are incredibly lucky to have these local resources, especially as chefs.
What is the biggest factor for you when considering what gear to choose for outdoor cooking and what role does gear play in supporting your ability to enjoy the outdoors?
When it comes to cooking, it depends what we are up to! If it's a set fire pit banquet, it needs to be heavier which unfortunately makes weight an issue if you're wanting to carry it a distance, even a small distance. If you don't have to carry it far, then lovely.  If we are lightweight backpacking and wanting to venture further, then having compact, lightweight and multifunctional bits of kit is important. Weight consideration has to become apparent when cooking outdoors.
What are your go-to recipes and why?
Tea (or coffee), a British stereotype, but one we fall into! For fireside cooking, something meaty. You want to keep it simple when outdoor cooking. We enjoy good quality steaks, fireside jacket potatoes, grilled veg with a nice bit of seasoning. Over a fire, cook what can take a bit of smoke, such as grilled whole fish. Simple, but perfect.
What are some of the challenges you face when cooking in the outdoors and how do you overcome them?
For open-fire cooking, the biggest challenge is finding where you are allowed to have it and making sure you have a good fuel source. This means if you are wanting to be creative, it is quite hard to do on a whim. You need to ask around and find permissive woodlands - permission from the owner is a must. You need to make sure that you are respectful, knowledgeable and leave no trace.
Backpacking and cooking over the stove is all about weight. It is also making sure that your ingredients can last outside and doesn't need to be refrigerated - such as grains and dry food. Equipment wise, this is where Sea to Summit comes into play for us - you need light equipment that doesn't take up much space in the bag and transfers heat into the pan quickly. Backpacking comes down to the need to boil water - be that for a hot beverage, rehydrating meals or making soup.
What is your fondest memory of cooking outside? Can you describe the place, the dish, and the experience.
Ben: I went fishing with my dad when I was eight in North Wales. We used to have races as to how quickly we could catch a fish and barbecue it. My best effort was 30 minutes, to catch it, put it on a spit and give it a spin over the fire. 
Andy: I was eight at a local youth group. After a day learning how to orienteer at the Peak District we all sat in front of a lively fire. The sun was setting and we each cooked a sausage on a stick over the flames. Bliss.
What inspired you to start your social pages dedicated to cooking in Devon and Cornwall? What has been the reception from your audience and what drives you forward to continue producing more content related to this space?
We have a lot of thanks for family and friends encouraging us to pursue it! We enjoy sharing our adventures and knowledge. It was a way of expanding our already existing catering company and bringing it back in line with nature. It allows us to combine work with play. We receive lots of messages where people thank us for sharing beautiful spots of Devon and Cornwall, either because it reminds them of time that they spent down here on holidays or times during their childhood. We all agree a crackling fire is a beautiful thing, and simple cooking outdoors is a very grounding experience. We believe that access to the outdoors is really important for our health; by sharing our adventures on our socials, we encourage people to get out there and have these experiences for themselves.
Who is your favourite chef and why?
Ben: Simon Hopkinson. He has such a simple ethos when approaching cooking. By combining quality ingredients with solid technique, his style produces really honest dishes full of flavour. Simon took ingredients and made the best out of them. His book 'Roast Chicken and Other Stories' is a gem.
Andy: - James Martin - he has a no nonsense, no fuss approach to cooking - simple and fresh. Honest. He has an uncomplicated approach to cooking. These are similar reasons as to why Ben's favourite chef is Simon Hopkinson!
What is your favourite restaurant and why?
Andy: Brindisa in London. It is a Spanish tapas bar with a very cool vibe and amazingly sourced ingredients. It takes me back to my holidays in Spain and time working in Barcelona.
Ben: St. John - nose to tail eating, using the whole beast. They use cuts and bits that don't usually get used - this is being done, more which is really great. The book 'Nose to tail eating' by Henderson  is a classic and all chefs should have it.
If you could take three pieces of gear on an outdoor adventure, what would it be and why?
Compass, stove and a bivvy bag. You always need to know which way you are going, you always need a nice cup of tea/coffee, and it is always good to have a bit of shelter.