How to Choose a Sleeping Pad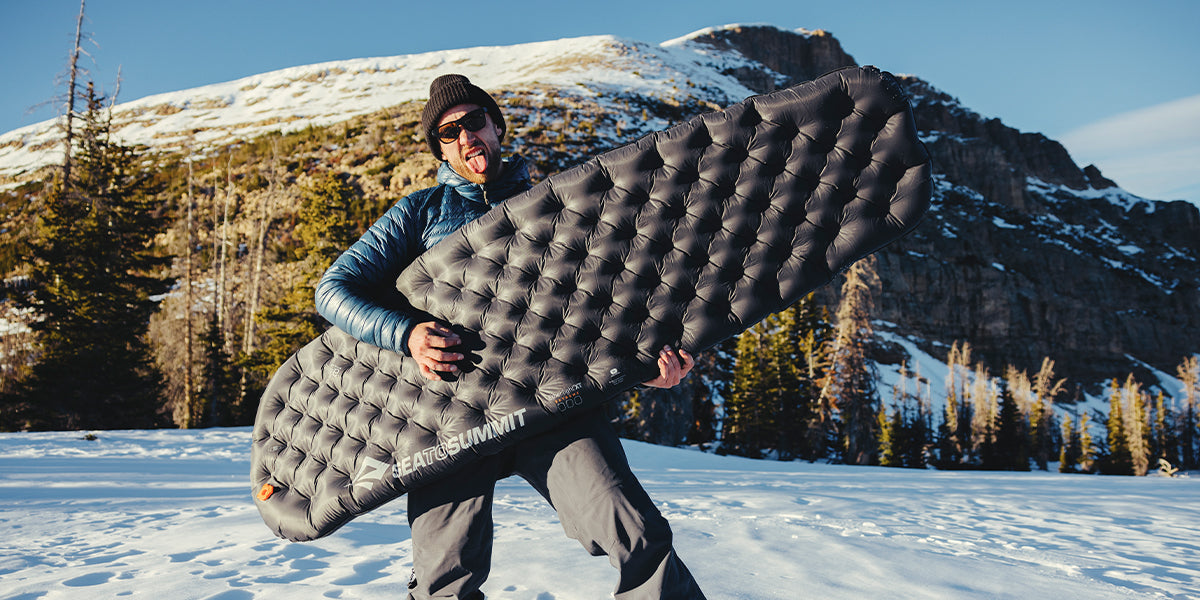 A sleeping mat is the foundation of your sleep system. Your sleeping mat's primary functions are to 1) provide a comfortable sleeping surface by separating you from the hard ground beneath you and 2) insulate you from the cold ground — which can be a whole lot colder than the ambient air.
Here are the key factors to consider when choosing the mat that is best fit for your adventure:
These comparison charts will also be a helpful resource when selecting the right pad for you.
CONSTRUCTION & DURABILITY
Sleeping mats or pads fall into three construction types:
Closed-cell foam: simple and durable, but bulky – Sea to Summit does not manufacture this type
Self-inflating: a core made of open-cell foam which draws itself full of air like a bath sponge. Sea to Summit offers this type of mat. Look for the designation 'SI'
Air-filled pads: chambers - often with internal insulation - which must be manually inflated. Sea to Summit has a range of this type of mat. Look for the designation 'Air Sprung Cells'
BUILT TO LAST
Sea to Summit's Air Sprung Cell pads are made of a high tensile strength nylon; the strongest fabric available in an air pad. Equally importantly, the internal airproof barrier is made using a liquid lamination technology that Sea to Summit pioneered in the outdoor industry – we have never experienced a failure of this airproof barrier.
The seams and baffles of all air pads are welded. However, not all welds are equal: Sea to Summit Air Sprung Cell Pads are RF (Radio Frequency) welded, not heat welded. RF welds are up to three times as strong as heat welds.
In addition, we specify a thickness of that airproof barrier that provides reliable welds. Making the barrier thinner would save weight – but it would take away from the class-leading reliability that characterizes a Sea to Summit Air Sprung Cell mat.
How to choose the level of reliability that is right for you:
If you are extremely space and weight restricted, you may opt for a brand of air pad that will pack smaller than a Sea to Summit Air Sprung Cell mat.
If you tend to buy gear with the idea that it will last for years, or if you are embarking on a long-distance adventure, you should strongly consider a Sea to Summit Air Sprung Cell mat.
EASY INFLATION
All Sea to Summit Air Sprung Cell pads have an Airstream Pumpsack integrated into the base of the stuff sack. This handy pump can inflate your mat in a couple of breaths—with minimal effort and condensation.
EASY TO ADJUST
The multi-function valve – a key element of both our Air Sprung Cell and Self-Inflating pads - can adjust the pressure of your mat until it's just right. Simply press the orange button until the job is done. The version of the valve used on the Self-Inflating pads also flips over to become a one-way deflate valve – which prevents the mat re-inflating while you roll it up.
INSULATION
A sleeping mat is not 'warm' – it simply insulates you from the ground. Even with the best sleeping bag and liner, the cold ground will drain the warmth you generate if your mat doesn't insulate well enough. The result can be a miserable, interrupted night's sleep. To determine how well your sleeping mat prevents heat loss into the ground, we look to the R-value (resistance to heat loss value) which measures the resistance to warmth transfer. In general, the higher the R-Value, the better the mat or pad is able to do this.
However, R-Value only measures warmth transfer in a static test. When it comes to air-filled pads, if your pad wobbles as you move around, the warmth you introduced into the pad will be dissipated as the air inside moves back and forth. Therefore - stable air pads are better insulators. Sea to Summit Air Sprung Cell pads (which have hundreds of interlocking small air 'springs') excel in this respect. (Self inflating pads are inherently stable, so warmth dissipation is not a factor).
In warmer air temperatures, your sleeping pad will insulate you from the warm ground – so a higher R-Value sleeping pad will not make you feel hotter in summer.
R-Value is cumulative, by the way – you can boost the amount of insulation underneath you by adding a second sleeping pad (we strongly recommend using a closed-cell foam pad in addition to your air mat for winter use).
How to choose the level of insulation you need:
Summer use: R-Value 0-2
Cooler weather (down to a light frost): R-Value 2-3
Cold weather (hard frost): R-Value 3-4
Winter: R-Value 4+
WEIGHT & PACKED SIZE
In general, air-filled pads will be lighter and pack down smaller than self-inflating pads. However, in the realm of self-inflating pads, Sea to Summit's Delta Core™ process—which removes 40% of the mat's foam core — means that the weight and packed-size differential is now smaller than ever.
WEIGHT
As a rule of thumb, most backpackers (and all bikepackers) will opt for an air-filled mat over a foam-filled, self-inflating mat due to their lighter weight. Depending on the model, an Air Sprung Cell mat will be around 20% lighter than a comparable SI mat.
Paddlers, car campers / overlanders who do not have to count grams will probably choose the self-inflating version. Because vehicle-based campers are so focused on comfort, Sea to Summit offers Long Wide (rectangular) and Double pads in the self-inflating category.
PACKED SIZE
An air-filled pad can pack down really small. Sea to Summit Air Sprung Cell pads are not the most compact on the market. Our engineers choose materials based on reliability rather than minimum packed size. For a backpacker, small packed volume is a significant advantage; for a bikepacker it is essential. An Air Sprung Cell mat will be around 30% more compact than a comparable SI Mat. Vehicle-based campers generally do not have to concern themselves with packed volume, so a self-inflating mat is the obvious choice.
SHAPE & COMFORT
SHAPE
When inflated, the footprint of your mat matters. A narrow mat may save weight, but if your elbows hang over the edge of the mat and touch the ground, you will experience cold and discomfort. Sea to Summit's Air Sprung Cell pads are wider than most out there. The unisex pads measure 21.5 inches at the shoulder versus the far more common 20 inches. The shape of a mat (which is also the case with the shape of a sleeping bag) is particularly important for women. Our women's specific pads are narrower in the shoulder and wider from the hip to the knee, to accommodate a typical woman's tendency to sleep on her side in a 'figure four' position.
COMFORT
Regardless of your specific sleep preferences, a mattress should be supportive. Self-inflating pads (regardless of brand) offer support across their entire width, because they essentially consist of a block of foam. Because the comfort and support of a self-inflating pad comes from the foam core, the thickness of a self-inflating pad is a key factor in how comfortable it is – this is not necessarily the case with air-filled pads.
AIR SPRUNG CELL™ SLEEPING PADS
Some air-filled sleeping pads have a large internal volume. They may look like they will be really comfortable at first glance, but they are inherently unstable. You wobble when you move in your sleep (which, as is explained in 'insulation' above, means you move a lot of air within the pad, dissipating your warmth).
Sea to Summit's air pads are constructed using a dot-weld pattern to create a matrix of hundreds of interconnected chambers. Each of these cells (or 'springs') mold to your body to equally balance the pressure of your body weight. You won't wobble when you roll over in the night, and the hundreds of points of suspension guarantee a comfortable sleep regardless of which position you sleep in.
SELF INFLATING SLEEPING PADS
A self-inflating sleeping pad uses a combination of air pressure and foam to create a comfortable and supportive sleeping surface. Because it essentially consists of a block of foam, a self-inflating pad does not suffer from the instability of some air-filled sleeping pads. Sea to Summit's Delta Coring creates air chambers inside the foam, so you sleep on a hybrid foam/air construction: unmatched comfort.
Self-inflating pads have always been the choice for people who are more focused on comfort and less concerned with weight. In addition to their plush thickness, the Comfort Plus and Comfort Deluxe SI Pads have a soft knitted face fabric more reminiscent of your home mattress.
If you will be carrying your gear (on your back on attached to a bike); or if you are space restricted (such as in a sea kayak) you will probably prefer a tapered mat. If your gear is transported by a vehicle, or you are simply a comfort-oriented user, you will probably go with a rectangular mat.
Sea to Summit invented Delta Coring, which significantly increases comfort in self-inflating pads.
If you have any questions about which type of sleeping mat is best for you – just ask. We will be happy to make recommendations.