Caring for Your Gear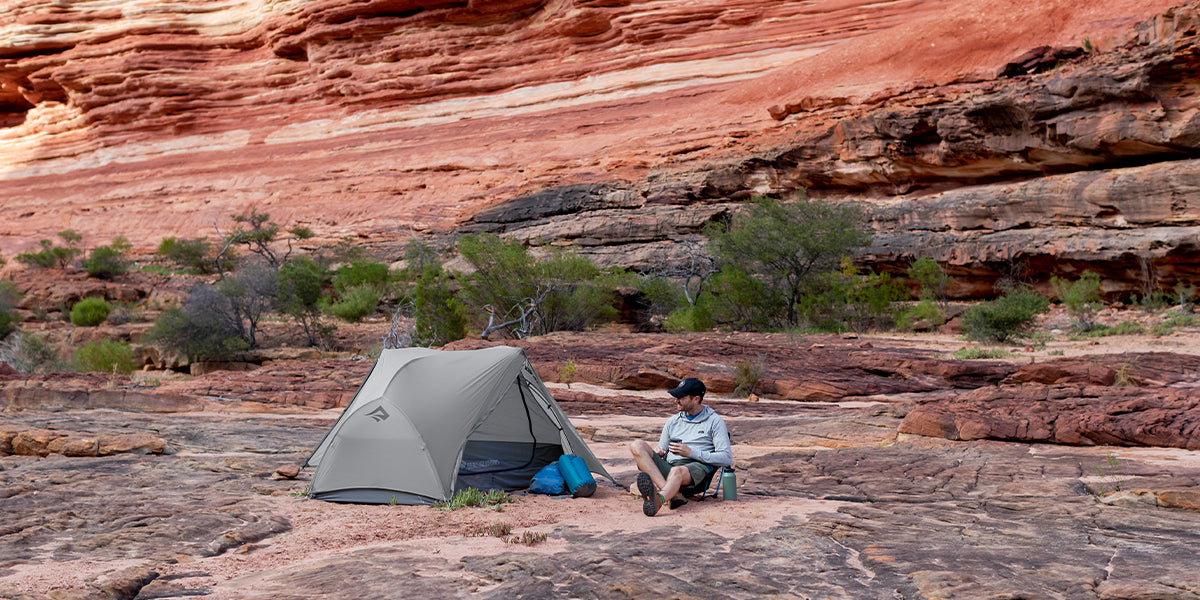 Here at Sea to Summit, we believe that gear should be reliable, functional and made to last. We use the best available materials and thoughtfully put them together so that they will serve you for years and years of adventure. However, even the best-made gear will have a shorter lifespan if it isn't properly taken care of. This blog focuses on what you can do to keep your gear working as well as possible for as long as possible.
Keeping your gear clean
Tents/Tarps:
In general, you should not need to wash a tent or tarp that often. Exceptions to this include:

Camping near burn scars – the dust will have a high charcoal content and will stick to the rainfly of a tent or a tarp.
Camping near a beach – your tent or tarp may collect quite a lot of salt and fine-grain sand.

Hand wash your shelter in a bathtub with warm water and a mild soap (Wilderness Wash is ideal). Make sure to rinse the shelter thoroughly and dry it completely before storage. 
Dry Bags/Stuff Sacks:
Most dirt can be removed from dry bags and stuff sacks by simply hosing them out.
If you have more persistent stains, wash the dry bags/stuff sacks/compression sacks by hand in a mild soap such as Wilderness Wash, rinse them thoroughly and air-dry them.
Washing removes fine-grain sand (which works like sandpaper between the fibers) and prevents oily stains from soaking through face fabrics and causing coatings to delaminate.
Do not put dry sacks with tape-sealed seams in a dryer: temperatures above 140°F / 60°C will cause the tape to delaminate. Bear in mind that the thermostats of laundromat dryers are notoriously vague and inexact. Air-drying takes away the risk.
Clean bags are less likely to attract rodents and other critters that will eat holes in them.
Towels:
Clean towels smell better, too. So will you when you use them.
Sea to Summit's microfiber towels can be washed in a washing machine – but they should be washed separately for the first couple of washes to avoid color bleeding onto other items.
Avoid fabric softeners in the wash cycle – they will significantly reduce the absorbency of the towel.
Air dry before packing the towel away - there's no need to use an electric dryer. If you should dry your towel in a dryer, do not use dryer 'sheets'
Aeros Pillows:
We've made them as compact and as comfortable as possible; keeping them clean is down to you. We felt this was worth a separate post - click here to find out how to hand-wash each of the pillows in our lineup.
Sleeping Mats:
Wipe down the surface with warm water and mild soap, then rinse with clean water. Air your gear / dry it out before storage.
Liners:
If you use a liner, you won't have to wash your sleeping bag very often. When you do wash it, there are some important guidelines you should adhere to which you can find here.
When your bag is clean, see 'store it dry' below.
What to do with 'organic' stains:
If your gear becomes stained with organic material (including food and body oils/sweat) it is worth neutralizing the odor with Grangers Odour Eliminator / Gear Aid Odor Eliminator to prevent the gear from becoming attractive to small critters who may eat holes in it.
Know which tableware/cookware can be washed in a dishwasher:
Anodized finishes will be damaged by the caustic cleanser used in dishwashers (incorrectly referred to as dishwasher 'soap'). Do not wash the following items in a dishwasher - not even once: X-Pots, Alpha Pots, Sigma Pots, Alpha Cutlery, Alpha Light Cutlery.
Beyond keeping your gear clean, here are some tips for making it last longer:
Keep it out of harm's way:
Anything with a coating should be kept as far away from solvents as possible. Solvents? Yes, solvents. Just take a look at this list:
DEET from bug spray will destroy polyurethane coatings, seam tape, elasticized drawcords and some other hardware.
Gasoline/mineral oil will delaminate coatings and remove water-repellent finishes.
Alcohol (the kind found in spray sunscreen and in iodine water treatments) is also bad for coatings and seam tape.
Even solvent-based permanent markers can cause fabrics to delaminate. (It is best to write on the black hypalon strip of a dry sack with a white or silver marker.)
Bleach (which isn't a solvent) will cause PU coatings to peel off and pliable fabrics to go crunchy.
Avoid excessive exposure to the sun:
The sun's ultraviolet light weakens fabrics: the lighter the fabric, the more pronounced the effect. Keeping your gear out of the sunlight whenever possible will make it last longer. Give some thought to this when:
Stowing dry sacks on your kayak or raft
Pitching your Escapist Tarp
Pitching your Telos or Ikos in hangout Mode
Store it dry
If you put the gear away when it is wet or even slightly damp, it will develop mold and mildew. This not only makes for smelly equipment, it also weakens seams and fabrics.
If you have washed a sleeping bag,

dry it until you are sure that there's no more dampness deep inside the down

(then store it in a dry place in an uncompressed state).
Sleeping mats and pillows should be stored unrolled with the valve(s) open. If you store a sleeping mat or pillow rolled tightly with the valve closed, any internal condensation may damage the laminate/bladder material.
Tents should not be stored rolled up: even if they are aired thoroughly before storage, the moisture in the air will be trapped in a rolled rainfly – damage to the coating may result.
'Store in a dry place' should not include sealed containers (such as totes with lids) - the lack of air circulation means that any moisture in the air remains in contact with stored gear. This will negatively affect urethane-coated products in particular a process called hydrolysis.
Lubricate zippers
You don't like sand in your teeth, and neither do the zippers on your gear. If you camp in desert/beach conditions, clean the teeth of your shelter/sleeping bag (a toothbrush is good for this), then spray them with pure (food grade) silicone spray, or use a zipper lubricant (sold at good outdoor stores).
Spare parts & repairs
Need a cord lock for your stuff sack? A lid for your X-Pot? Some other item? Let us know here – we keep an extensive stock of spare parts to keep your gear working.
Don't throw away that dry bag or pack cover just because that pesky rodent at your last campsite chewed a hole in it. With our tips about repairing tears and holes in coated fabrics, your gear can see you through many more trips.
Know the limitations of the materials
Certain fabrics have – for instance – a higher tear strength/abrasion resistance than others. Caring for your gear also involves being aware of the kinds of environment the product or material was designed for and using it appropriately. We're always happy to make recommendations about best use for your gear – just reach out to us here.