The Design Series: An Interview with Product Designer, Paramjeet Singh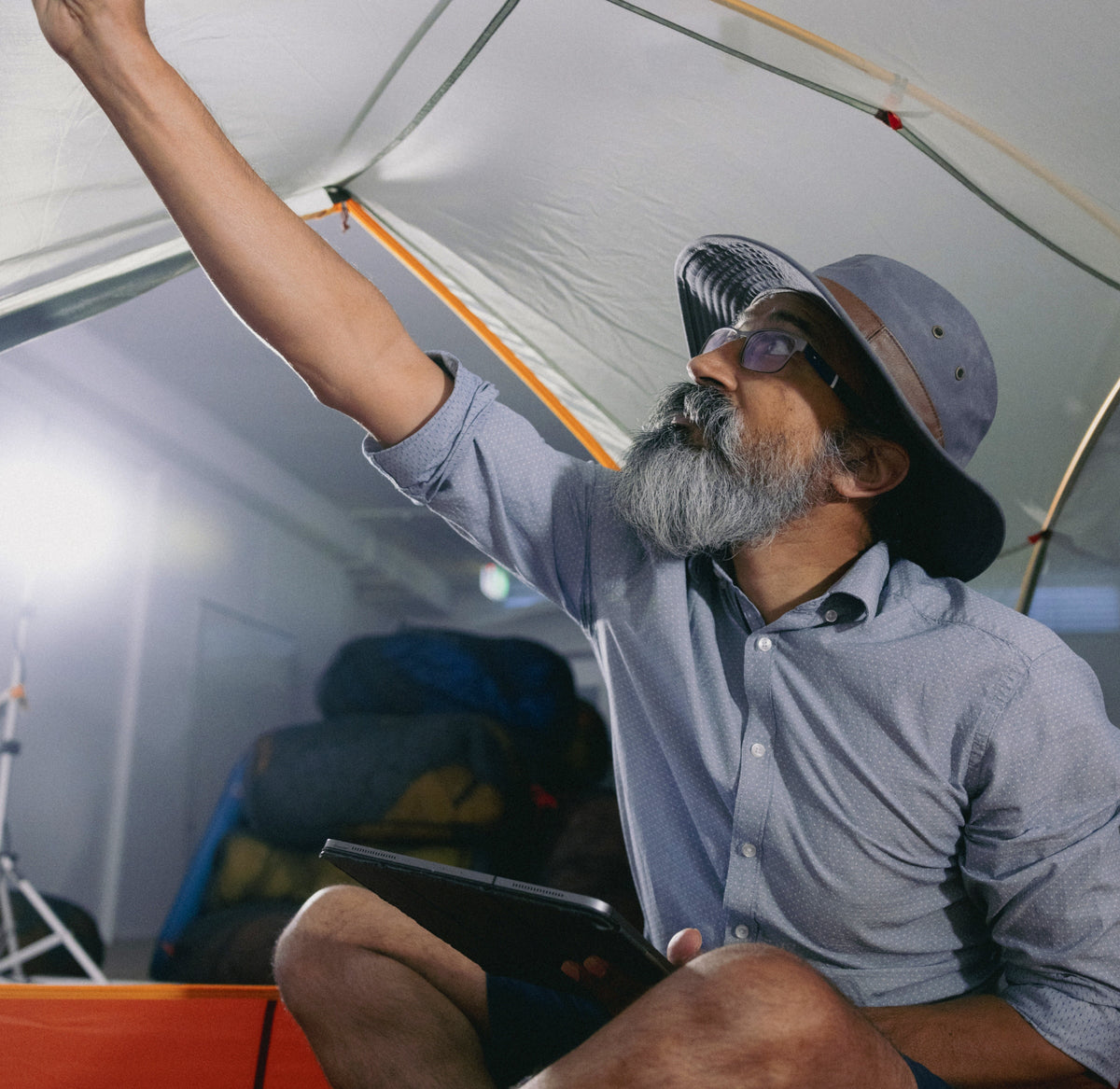 At Sea to Summit, creating meticulously engineered gear to bring you closer to the outdoors is at the heart of our brand. In an all new Design Series, we're taking you behind-the-scenes to meet the individuals who make up Sea to Summit's creative, forward-thinking and innovative team. 
This is the second instalment of our Design Series and we can't wait to continue to introduce you to many more of our brilliant and talented Sea to Summit team members.
Meet Paramjeet Singh. In an exclusive interview with our very own product designer, we learn about Paramjeet's relationship to the outdoors, what makes Sea to Summit's design process unique, the role sustainability plays in product design and so much more. 
What drew you to a career in design? Was it a natural fit and something you always wanted to become, or did you find yourself in this role more coincidentally?
Architecture was the doorway to my career in design. It was my go to profession to synthesise aesthetics, technology and human centric aspects which allowed me to create solutions for the unique practical peculiarities of particular contexts. I experienced this work as a rewarding creative process that provided lasting significance for its users.
 
My passion for design innovation and love for outdoor  adventures naturally translated into designing gear  for my own outdoor pursuits  and then on to product design  for the outdoor industry. 


What are the biggest joys and highlights about working in product design at Sea to Summit?
Sea to Summit was built on its strength of design and attention to detail. I have seen Sea to Summit evolve since it was founded by Roland more than thirty years ago and it is inspiring to see him still driving innovation with the same passion and the company remaining true to its design centric ethos as it continues to grow and expand on a global level. 
 
Outdoor products are uniquely situated because performance and reliability are fundamental but aesthetics are also key. This allows all creative engines to keep firing and this multi dimensionality of the design process at Sea to Summit is what I love.
 
Conceptualising, designing, and creating outdoor gear which I use myself and then seeing it perform in the outdoors with positive customer feedback is incredibly satisfying.
 
What does innovative design mean to you?
Innovation is inseparable and essential to design. Innovative design takes a fresh look at any given context and then redefines, enriches, and significantly improves the user experience.
Innovative design solution by definition almost always requires out of the box thinking. 
The main differentiation between product design and bespoke esoteric design is the goal to create a product which can be mass produced, economically accessible and functionally useful for a large user audience.

In what ways do you create products to solve problems experienced in the outdoors? Would the problem spark the product or the other way around? Can you talk me through this process.
The key focus of products designed for adventures and the outdoors is 'performance'. The gear needs to be reliable and dependable and intuitive to use  so users can  feel self-assured and confident when they're using our products in tough climates and conditions and focus on their outdoor experience.
 
Whether a family is camping on the coast with ideal conditions or a climber weathering a storm on a summit, product designers are driven by a goal to ensure users have the best experience possible when using our gear.

This drive to evolve brings new product ideas to life. A new product is almost always born out of a considered response to a real life problem or an effort to improve an existing imperfect solution.
 
I tap into my own experience of various outdoor situations for inspiration and have the benefit of the rich collective knowledge of the STS community and the very experienced  Design  team to bounce off and refine the ideas and concepts.

Most importantly, all of our design ideas here at Sea to Summit are tested against these key benchmarks; does it work flawlessly, is it durable and dependable, does it measure up to the best standards of quality and aesthetics, is it the best possible solution?
 

In what ways has your professional role as a product designer influenced your personal life?
A career in design demands a certain level of intensity but is equally rewarding thanks to the creativity it offers. 
Being  an architect and product designer , I am accustomed to  round the clock  studio work. Ideas, inspirations, and solutions to design problems can strike at any time so there is a degree of constant creative preoccupation. This can be challenging for people around you  but my wife and daughter are very supportive and share my excitement for the outdoors and design.

Product design is a human centric occupation that encourages me to remain on top of current social and economic trends as well as advances in art and technology. 
 
What is your relationship to the outdoors, adventure, and the world of camping?
I was born in Shimla in the Himalayas and grew up with snow sports and steep terrain. I was naturally drawn towards purist forms of self-supported adventure and have a passion for rock climbing, mountaineering and exploration.

My wife Alka and I were involved in the development of  trad climbing in India in its early years and also represented  India in the Sport Climbing World Cup.

In the year Sea to Summit was founded, Roland, myself and three other friends were the first to accomplish a ski traverse of the Himalayan range in the middle of winter. We have shared many adventures and exploratory trips together since then.

I'm now based in Perth which is surrounded by extensive Australian wilderness. There is always an adventure or camping trip in the pipeline and these  invariably turn into opportunities for product testing and working out new ideas.
 
What is the measure of professional achievement for you as a product designer at Sea to Summit.
Commercial success, industry awards and patent grants are great encouragements but the most important aspect of product design is  user satisfaction. It's hugely rewarding to overhear someone in the field effusively expressing their appreciation of a product that you were involved in creating.
 
How do you choose a dream product to design? Can you talk us through the process.
There is always a large repository of dream product ideas in a designer's head. A selection make it through development stages but only a handful will become realised products. 

At Sea to Summit, we take pride in our collaborative and yet ruthless filtering process to select design ideas that are eligible for full development. This means that the products we bring to market are offering real solutions and added value to a user's experience. 
 

Can you tell me a little bit about the IKOS Tent with Tension Ridge. What was the inspiration behind the product and what was the process involved in designing it?
Our Telos and Alto tents broke new ground in tent architecture with the innovative Tension Ridge system, thanks to our collaboration with Jake Lah and DAC. These products were extremely successful and well acclaimed when they were launched in 2021. They were designed for the technical users who prioritised performance and light weight.
 
We wanted the performance advantages offered by the Tension Ridge architecture to be more accessible to users  for whom comfort and ease of use were very important. The focus was to create  tents which were appropriate for both first time hikers and seasoned explorers. 
 
The designing of the IKOS Tent with Tension Ridge involved extensive prototyping of both the pole frame and the inner and outer skins of the tent. The user experience was always paramount, and the tent went through many design iterations to arrive at its final shape and dimensions. The prototypes were put to extensive testing including the wind tunnel tests at the special facility of DAC located in Korea.
 
The IKOS system was designed to provide a spacious shelter with the best in class features. It needed to be robust and rugged to endure the rough and tumble of camping with family and pets in a range of climates and conditions. 

It's a tent I can take on a long trek in the Himalayas with my family as well as a quick getaway  weekend  to a campground at West Cape Howe; it's versatile! 
 
What areas do you see the most important to be developed and furthered in the outdoor industry for product design? Are there any areas of opportunity that bring you the most excitement?
It is an exciting time of technological leaps in material science, product design and manufacturing. With intelligent systems, it's now possible to model, simulate, test, prototype and evolve a design at a more granular level of detailing.

Recent advances in manufacturing mean a higher level of user centric customisation can be achieved to benefit users and improve resource economy. Social media engagement can better inform the design requirements and makes it easier to access feedback on how various products perform. 

Increased economic, environmental and social responsibility are already being pursued by the outdoor industry which is a very welcome trend.
 

As the outdoor industry continues to evolve and there is an increasing amount of people choosing vehicle-based camping (including 4WD, living in their vans, motorhomes etc), what role do you see product design in catering to this growing consumer market?
Vehicle supported outdoor experiences have made the outdoors more accessible to a wider range of people. I can see product design adapting to the new functional needs of this segment to enable  greater comfort, longer trips and increased self-sufficiency.

This trend is re-orienting both functional and aesthetic priorities related to product design. For instance, designers can shift their emphasis away from lightweight gear towards added durability, economy of packing space and compatibility with supplementary gear options suited for short self-supported side excursions.
 
Considering the outdoor industry relies on the natural environment to exist, in what ways do you see outdoor brands helping and contributing to environmentally sustainable travels and adventures?
The outdoor industry is in an ideal position to encourage the importance for products to be sustainably designed and to raise awareness for how people can be more responsible  when embarking on outdoor adventures. 

This can have a positive knock-on effect for other industries as well and can help to shift wider sensibilities. Currently, most of the outdoor industry is predominantly focussed on transitioning to sustainable materials and manufacturing processes.  However, some brands do apply a more holistic approach which is a great step in the right direction. 
 
Sea to Summit has always subscribed to self-accountability in this area and sustainability has always been an important component of Sea to Summit's design philosophy. I believe in addition to sustainable materials and manufacturing; the quality and durability of a product is one of most effective ways towards sustainability.
 
Products which are durable, promote reuse and can be repaired to extend their life can counter the problem of disposability.

Appropriate messaging as well as designing products which enable users to enjoy their outdoor experiences securely, comfortably and which facilitate the ability to 'leave no trace' can go a long way to minimise our environmental impact.
 
If you had to pick the product that you're most proud of, what product that be and why?
The process of product design is very engaging and you have to continually push the boundaries of what is possible. I can think of many products with their own and unique degree of creative struggles.

After nearly two decades of product design at Sea to Summit, it is hard to pick favourites. The collapsible camp kitchenware and the range of  tents are some of the more memorable projects. Although it's not a product, designing the Sea to Summit's Headquarter building located in Perth was also a very special experience.