WHY IT'S WORTH INVESTING IN A FIRST-CLASS BACKPACKING TENT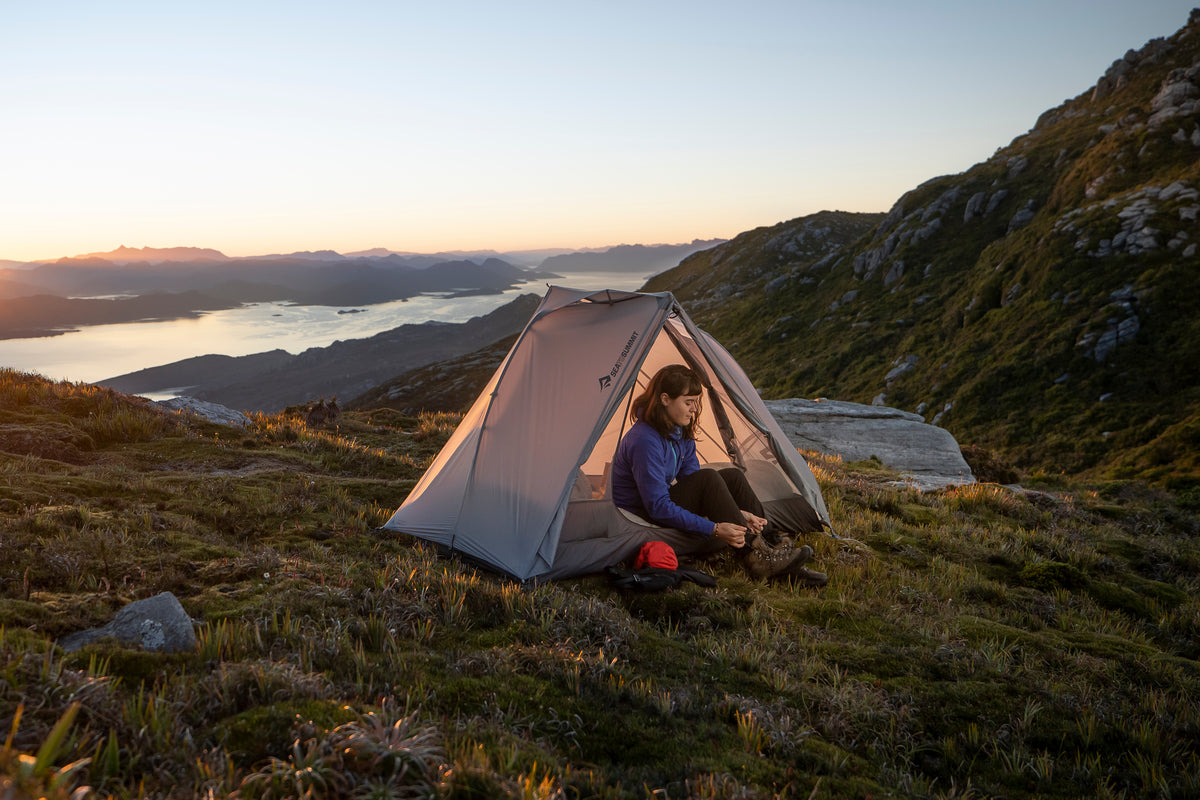 To me, backpacking tents have always signified freedom. Freedom to venture further for longer—all the while knowing that, at the end of each day, I'll be spending the night dry and comfortable in my cozy little sanctuary.
But not all hiking tents are created equal—and staying dry and comfortable is not a given. 
Over the years I've used a variety of backpacking tents, sometimes living in them for weeks on end. Given enough time, little annoyances can really impact your enjoyment of the outdoors. Especially if you're tall and lanky like me and can't remember the last time you got to sit up straight.
There's no substitute for good quality and good design on outdoor adventures. It's great to reduce weight and lighten the load—but not at the cost of basic comfort and durability. Besides, cheap gear will fail—and when you're in the middle of nowhere, that's the last thing you want to deal with.
The Alto and Telos are Sea to Summit's entry into the ultralight backpacking tent space. Both share in many of the same design innovations and features that you'll be thankful for out in the wild—but differ a bit in their intended use and user.
The Alto proves that an ultralight semi-freestanding tent can still be spacious and comfortable to use. Impressively versatile too. The one-person and two-person sizes are both available in part-mesh or full-fabric variants for cooler/wetter conditions.
Meanwhile, the freestanding Telos combines ultimate liveability with an ultralight ethos. It's the fully-featured, optioned-out model that is uncompromising on versatility and space, whilst remaining ultralight and compact. The Telos comes in two-person and three-person sizes and two variants suitable for different conditions.
It's no secret that there are a lot of hiking tents out there—so it's always exciting when something new redefines your expectations of comfort and convenience, with little to no trade-off.
The Alto and Telos ultralight backpacking tents seriously deliver on space, ventilation and versatility. These three factors—along with high-quality construction—are the crucial aspects of a good tent.
For me, the internal space and shape dictates how liveable a tent will be. It might seem obvious, but if a tent isn't long or wide enough for myself (and whomever I'm sharing it with) to stretch out, then that's an instant fail.
Having enough headroom to sit up properly and move around is a big one too. Sea to Summit have nailed this with their Tension Ridge architecture, which raises the roof and provides loads of interior space. This same innovation also creates near-vertical walls, a super tall ceiling and high, spacious doors—the opposite of what I've learned to accept with ultralight backpacking tents.
Long story short, this means the Telos and Alto are spacious enough for even the tallest campers.
Call me crazy, but I'm a firm believer that tents should keep rain on the outside and stay condensation-free inside. The trick to achieving this is good ventilation.
On one trip to Nepal, it drove me nuts waking up each morning to a damp interior due to poor ventilation. Despite the cold, dry air, moisture from our breath got trapped inside the tent. The vents simply couldn't keep up. And, on a long trip, an increasingly damp sleeping bag is a real drag.
Both the Alto and Telos have been designed to allow for effective airflow and ventilation in all conditions. Up top, the Tension Ridge pole design means a full-width Apex Vent can be placed at the highest point of the tent, the most effective place to vent hot, moist air (like the kind you breathe out). To promote airflow, the Baseline Vents can then be opened and positioned to catch the breeze.
Vents that can easily be adjusted from inside the tent—and can be opened without letting the rain in—make a huge difference in the field. Even the interior mesh panels have been engineered for maximum airflow. This means that the tent can catch the breeze from any direction.  
Often terms like 'ultralight' and 'fully-featured' are at odds with each other but Sea to Summit's backpacking tents manage to defy reason on this front. The freestanding Telos and semi-freestanding Alto adapt seamlessly to different scenarios, offering several set-up modes.
HANGOUT MODE (TELOS MODELS)
Hangout Mode allows you to convert the outer fly on your Telos tent to a semi-open shelter. Perfect for group meals, socializing and on-the-trail weather protection. Set-up is easy and can even be done using your trekking poles or the Hangout Mode Pole Set (sold separately).
Keep your inner dry in rainy conditions by setting the fly up first and taking it down last.
My personal favorite. The tent's fly can be partially folded back on clear nights for stargazing and then quickly rolled back down if some dodgy weather rolls in.
IT'S ALL IN THE DESIGN DETAILS
The designers of the Alto and Telos tent have solved several problems I didn't consider easily solvable. Here are just some of the finer details that make these tents a pleasure to use.
The Fairshare Storage System is made of three separate storage sacks for the poles, fly and inner tent. These join up together or can be easily split between several people—meaning you can share the load with your fellow campers.
At camp, these storage sacks turn into extra internal storage pockets. Just secure them inside your tent with press studs—clever!
Meanwhile, the pole bag uses light-diffusing materials. Add some headlamps, clip it to the ceiling and it transforms into a Lightbar. Perfect wall-to-wall light for reading before bed.
EASY PITCH WITH QUICK CONNECT TENT FEET
We've all been there—it's dark, you're tired and you can't for the life of you figure out which pole connects to what corner. Pitching a tent can be surprisingly difficult when the process isn't simple and intuitive.
Refreshingly, pitching the Alto and Telos tents is a breeze. The one-piece DAC pole structure snaps together to form the backbone of the tent and securing the poles is made super simple thanks to the color-coded Quick Connect Tent Feet. It can even be done one-handed!
I've definitely been guilty of locating the nearest sizable rock to smash in stubborn tent pegs. Of course, this means I've bent and broken a lot of tent pegs. Sea to Summit's tents all have adjustable stake-out points, so you can reposition to find a better spot to drive in the Ground Control Light pegs. These felt surprisingly strong and are crafted from ultralight aircraft grade alloy.  
A taut pitch ensures your tent doesn't flap in the wind or sag where it shouldn't—and effective guy line attachment is a great insurance policy against unexpected increases in the wind. Alto and Telos all come with Ground Control Guy Cords that have a nifty quick-connect attachment that can be easily moved to different points on the tent as required. They're even reflective, to stop you tripping over them in the middle of the night.
After many, many nights (and days) spent under a fabric roof, I've become a bit of a tent snob. My expectations are high for what constitutes a really good tent.
Whilst I expected the Alto and Telos tents to be good, they honestly exceeded my expectations—no wonder the Telos TR2 has already picked up several awards. They're the most user-friendly, high-quality and innovative hiking tents out there.
The super spacious three-person Telos was a cinch to pitch. You can watch a full Telos set-up walkthrough here. The interior felt cavernous and easily accommodated three adults and all our sleeping gear, with space to spare. I was amazed at how much headroom there was. Even while sitting on a super thick Ether Light XT sleeping mat, my head was nowhere near the roof. The extra features were all useful—and I particularly enjoyed the Lightbar and stargazing partial fly mode.
The Alto one-person tent was surprisingly spacious too and didn't feel claustrophobic like other solo tents I've tested. The overall quality of workmanship and materials of both was top-notch—as I've come to expect from Sea to Summit gear.
Good outdoor gear improves your comfort and enjoyment of outdoor adventures. For me, the short-term cost savings of inferior gear is ultimately never worth it.
Try sleeping in a cramped, damp tent for even a single night and tell me you didn't curse yourself for trying to scrimp and save. A tent becomes your little home away from home, and much like a house, buying one that's made to last is important. Sea to Summit has delivered with the Telos and Alto. Both are easily top of their class in function, performance and innovation.