Why Bikepackers will love loading up with Stretch-Loc Straps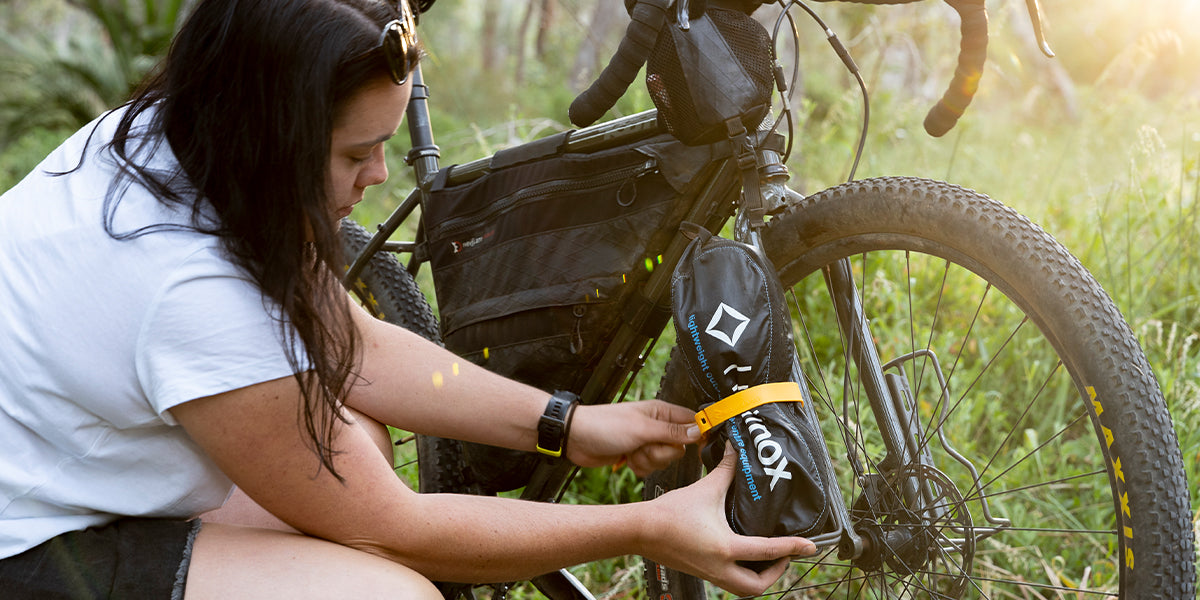 Bikepackers prepare to revolutionize your adventure with Stretch-Loc Straps. In world where simplicity often reigns supreme, these bikepacking straps pack a punch you won't want to miss.
Unlocking Bikepacking's Potential
When it comes to transitioning from traditional touring to the thrill of bikepacking, tie-down straps emerged as a game-changer. Shedding weight and accessing once-inaccessible terrain became a reality. These unassuming straps helped us evenly distribute gear, conquer technical trails, and embrace extended off-road journeys—all without sacrificing precious gear along the way.
My Journey with Bikepacking Straps
My personal bikepacking journey has been a wild ride, and these straps have been my trusted companions from the pannier days to off-road adventures. They've instilled confidence as I navigated challenging trails fully loaded. It's remarkable how such simple, cost-effective tools have enriched my bikepacking experience.
Streamlining Your Bikepacking Setup
Bikepacking straps eliminate the need for complex mounting hardware, reducing unnecessary weight and potential points of failure. In my book, gear without moving parts is golden. It minimizes the risk of malfunctions, adhering to my motto: if it can survive a cliff dive and still work, it's good enough for me. During my journeys, these straps have proven invaluable for securing extra gear to the bike frame, forks, or anywhere else to free up bag space. Whether we were planning 18-day stretches between resupplies or attaching lentils and olive oil bottles to our frames, these straps expanded our carrying capacity in remote, off-road settings.
Versatility Beyond Imagination
I've pushed the limits of bikepacking straps, using them for everything from suspending my bike during repairs to splinting an injured friend's legs on a rough Peruvian road. Their utility knows no bounds.
Sea to Summit has taken bikepacking straps to the next level with their Stretch-Loc Straps. What sets them apart is the innovative Keeper Strap. This nifty addition ensures your straps stay in place when attaching or detaching items from your frame, simplifying one-handed gear adjustments. The Keeper Strap also acts as a protective barrier, preventing frame damage from friction and providing extra grip for securing unconventional items. Stretch-Loc straps are strong and secure, featuring a non-slip POM buckle for quick and easy tensioning. The stretchy TPU material holds gear firmly in place, even when wet. With a wide range of sizes and widths available, there's a strap for every bikepacking scenario, from overnight trips to epic traverses.
Putting Stretch-Loc Bikepacking Straps to the Test
I rigorously tested Sea to Summit's Stretch-Loc Straps over three months in coastal NSW, covering 620 miles of mixed terrain. These straps handled everything I threw at them with ease, from mounting a pump and spare tube to securing fork bags and spare tires. They proved their worth in camp too, facilitating gravity water filtration, bike repairs, gear organization, and bike storage. I even found myself relying on Stretch-Loc straps during road trips to organize gear, secure bikes, wheelsets, and more. These straps would likely be my go-to solution for on-the-spot bush mechanic work.
Durability Beyond Expectations
Stretch-Loc Straps set a high standard for durability. They withstand the rigors of off-road riding, resisting scratches and abrasions from rocks and branches. Even my attempts to break the 20mm wide straps with both hands failed, highlighting their impressive strength.
The Stretch-Loc design stands out with its sturdy, non-slip thermoplastic POM buckle that locks the strap securely in place. The Keeper Strap eliminates the need for constant tensioning and adds a layer of protection between your frame and bags. The TPU material maintains excellent memory, making it easier to mount gear over time without losing tension. It offers a reliable grip, even in wet conditions, ensuring your gear stays put during rain-soaked trail rides.
Weight and Cost Savings
Stretch-Loc straps, like other Sea to Summit gear, offer competitive weight savings. For example, extending the 20mm straps to 750mm can save you 1 oz per strap compared to wider alternatives. These straps also come at an attractive price point, nearly half the cost of competitor straps, and are sold in convenient pairs.
Choosing the Right Size
Selecting the right size can be confusing, but here's a handy guide to help you choose the perfect strap for your bikepacking needs.
Frame-mounted tube bags, pump, tool roll, spare tube: 12mm x 300mm
More secure frame mounting for bulkier stuff: 20mm x 375mm
Mounting a 500ml standard drink bottle to a fork: 20mm x 375mm
Securing 2L wide mouth drink bottle to a frame (using a cage): 20mm x500mm
Mounting dry bags to fork (using cage): 20mm x 625mm
Roll harness for 20L Big River Dry Bag: 20mm x 750mm
Unleash the Potential of Stretch-Loc Straps
Stretch-Loc Straps are designed to carry a water bottle without the need for a bottle cage, thanks to the Keeper Strap's padding and grip. They excel in daily commutes and predictable surfaces where you want to lighten your load. However, for off-road adventures, I recommend using cargo cages to support gear and water bottles to prevent rattling.
These straps offer quality, dependability, and versatility at an unbeatable price. Their applications extend far beyond bikepacking, making them an essential tool for various adventures.
Top Tips for Using Stretch-Loc Straps on the Trails
Ensure minimal movement; tension the straps if anything shifts. Stability is key, especially to prevent wheel mishaps.
Take advantage of the Keeper Strap when securing items to the down tube and handlebars for easy removal and reattachment .
Always strap around the frame when using a cage to prevent bolts from loosening and eyelets from breaking free.
Add cloth tape to your frame to protect it and your bags. Remove any frame bolts to save your bags.
Cut straps to length to minimize flapping (note: this may void the warranty) and reduce weight. Keep straps sized for specific tasks.
Don't expect 12mm straps to handle the same load as 20mm straps; use them for lighter duties.
For international travel, keep a couple of spare Stretch-Loc straps on hand—they might just become your currency in the bikepacking community.
Opt for a brighter color if you tend to misplace your gear.
Embrace the Stretch-Loc Straps from Sea to Summit and elevate your bikepacking adventures to new heights. Whether you're exploring rugged trails or embarking on epic journeys, these straps will prove indispensable time and time again. Get ready to tackle the great outdoors with confidence, knowing that your gear is secure, and your adventures are limitless.