The Best Ultralight Backpacking Tents we Could Imagine: Alto, Telos and Beyond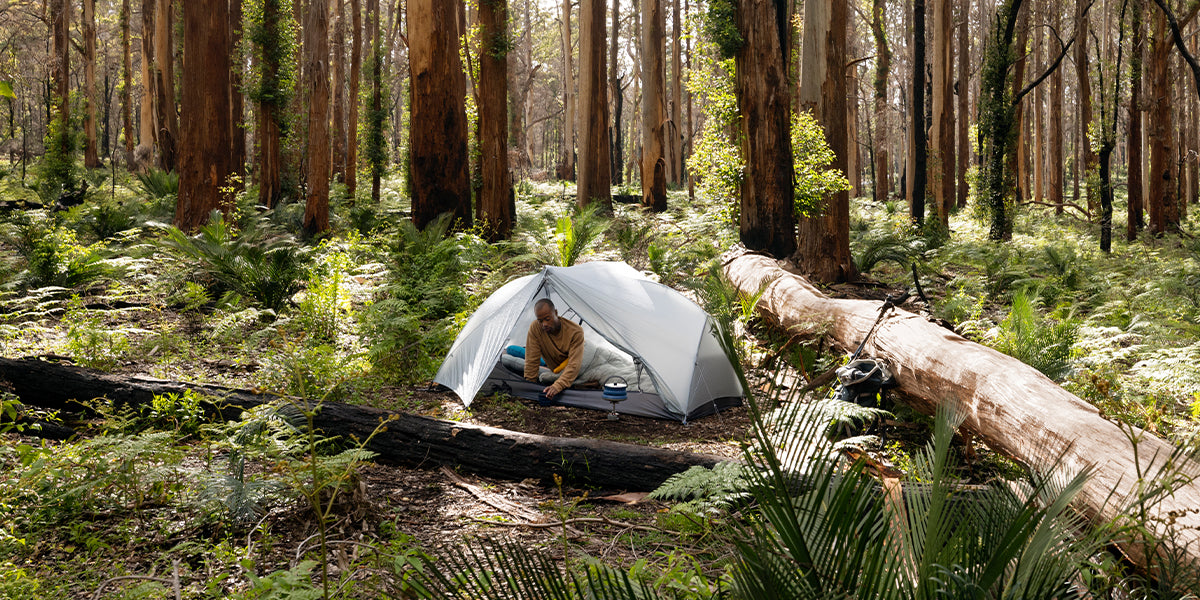 Creating the Best Ultralight Backpacking Tents in our 30 years of designing and testing camping gear...
In our 30 years of designing and testing camping gear, we've spent countless hours in ultralight backpacking tents. And we've seen them change a lot over that time.
Backpacking tents seem to get lighter and lighter every year - but not necessarily better. Of course, the phrase "ultralight backpacking tent" is like music to a hiker's ears (including ours). But should comfort, versatility and durability be sacrificed for a few grams?
We've spent countless nights staring at tent ceilings, thinking about what is and isn't good about the ultralight backpacking tents we use.
Squeezed into some tents, it was obvious that there was a lot of room for improvement. So, we set ourselves a challenge: To design the best ultralight backpacking tents we could imagine.
To do that, we looked at the good, the bad and the ugly of the best ultralight tents on the market. We pored over every little detail. We had about a million conversations amongst ourselves and with our customers. And, in the end, we knew what areas we wanted to focus on - space, ventilation and versatility.
Creating a Spacious, Ultralight Tent
There is a reason backpackers focus on weight—the longer your journey the heavier your pack becomes. However, as tentmakers race to the bottom of the scale, tents have gotten smaller and more fragile—with less and less functionality too.
If you've ever wound up in a two person backpacking tent that isn't really meant for two people (perfect if you and your camping buddy want to spoon), you'll know what we're talking about. Usable space has been sacrificed to get a lighter product. It's happened so incrementally, you would have barely noticed the walls and ceiling closing in on you until you got a face full of fabric.
Conventional pole architecture means the highest point of most tents (which often isn't that high) is right in the center. When you sit up in a tent like this, you end up craning your neck into the apex. That might be manageable when you have a tent to yourself, but it really cramps your style when you're sharing. And that architecture often leads to sloping walls which eat into useable space and drip condensation when you inadvertently touch them.
Ventilation
Ventilation is another area where weight has been saved at the expense of comfort. Vents have become smaller, or are placed relatively low on the rainfly. Given that hot air rises, that doesn't make any sense. It seemed obvious to us that the vents should be at the top of a tent. That way, warm, moist air can actually escape.
So we decided our ultralight backpacking tent needed to have more space and better ventilation.
Versatility
The golden rule of the wild is to expect the unexpected.
We've all been in the situation where you get to camp and the weather decides to rain on your parade. Wouldn't it be great to have somewhere sheltered where you and your companions can all hang out, play cards and have some snacks together? Tiny ultralight backpacking tents don't allow such frivolity—instead, you have to hide away in your separate tents.
You can't always take advantage of clear weather either—can't sleep under the stars on a warm, clear night or enjoy an unexpected gentle breeze. We wanted to design a tent with multiple setups so you can make the most of your surroundings.
It's not surprising that these details weren't at the forefront of most designers' minds—it requires some unconventional thinking. But they can make your camping trips more comfortable and enjoyable.
Introducing Our Alto and Telos Tents
To take the step from imagining the best possible ultralight backpacking tents to realizing that dream, we collaborated with designer Jake Lah, the father of modern tent architecture. Jake has spent 30 years running his design and manufacturing company, DAC. When he met Roland Tyson, Sea to Summit's Head designer and Founder, the two realized they had a lot in common. "It was a true partnership-which is unique," said Roland. "Jake had lots of concepts that he had been waiting to share with the right design company-he hasn't done that with anyone else." The result? Two tents, Alto and Telos and a number of game changing technologies-foremost among them being the Tension Ridge.
Tension Ridge Technology in Backpacking Tents
The Tension Ridge raises the bar for backpacking tents—both literally and figuratively. This antenna-like structure angles up to create more space and raise the ceiling height without sacrificing lightness.
With Tension Ridge, it's easier to sit up, get changed, stretch and get in and out of the tent (especially if you're tall. And thanks to the taller doors, you get better views outside!
With a higher ceiling, our tents' walls are near-vertical. That also means there's more room for thicker pillows and sleeping mats—and you'll never squash your face into the tent wall and let in condensation.
The new technology also allowed us to implement a truly—effective venting system—creating a climate-controlled tent.
"The Tension Ridge gives the opportunity to put the vents in a higher spot," said Roland. "No one has ever done that before, even though it's the most obvious thing to do."
By placing the vents up high, we've improved the ventilation of our tents by 60% compared to other leading tents in this class. When you have better airflow, you get less condensation and humidity than other tents - 31% less humidity to be precise. No more stifling heat in your tent in summer. And no dripping ceilings.
Finally, we made our tents super adaptable. You don't go outdoors to be stuck in a nylon cell. Our ultralight tents help bring the outside in (when you want to). The Telos has a whole smorgasbord of setup modes for different weather. You can choose a set-up of inner only, fly + inner, partial fly, or fly only.
In its most innovative setup, the Telos isn't even a tent-it's a semi-enclosed shelter. We don't always go outdoors to be alone. Sometimes we just want to spend some quality time with our mates.
Backpacking Tents Designed Down to the Details
A lot happened between the first sketches and the completion of testing. We added a Lightbar, an easy to use machined-aluminum pole foot/rainfly clip and more storage. Then, we improved the guylines and peg out points, and designed some new lightweight pegs, too. We also created a modular tent storage system that allows you to split the load between campers.
Making good design great is all about perfecting those finer details. We did just that.
But - we didn't stop there. We created Plus versions of the Alto and Telos that use high-spec floor fabrics and woven nylon walls for the inner tent to keep cold breezes out (making the Plus versions ideal for colder, wetter environments).
Then we added a bikepacking-specific version of the Telos TR2 with custom-made bike bags (made of our Big River fabric with a waterproof eVent base to allow air to escape) and shorter pole segments. Backpackers love the versatility and liveability that the Telos offers - now bikepackers can, too.
And we didn't forget the comfort-oriented backpacker/car camper. The Ikos TR 2 and TR 3 share the same Tension Ridge design architecture with all of its advantages in terms of usable space and ventilation in a larger-format, with rectangular floors to accommodate rectangular sleeping mats. Unusually in a market segment characterized by low-cost components, the Ikos features the high quality DAC MX poleset, Sea to Summit Ground Control Pegs and light-but-durable fabrics.
Go ahead – get out a map or a guide book and start dreaming where you will go on your next adventure: we've already imagined the tents that will take you there.