Hangout Mode Will Change the Way You Camp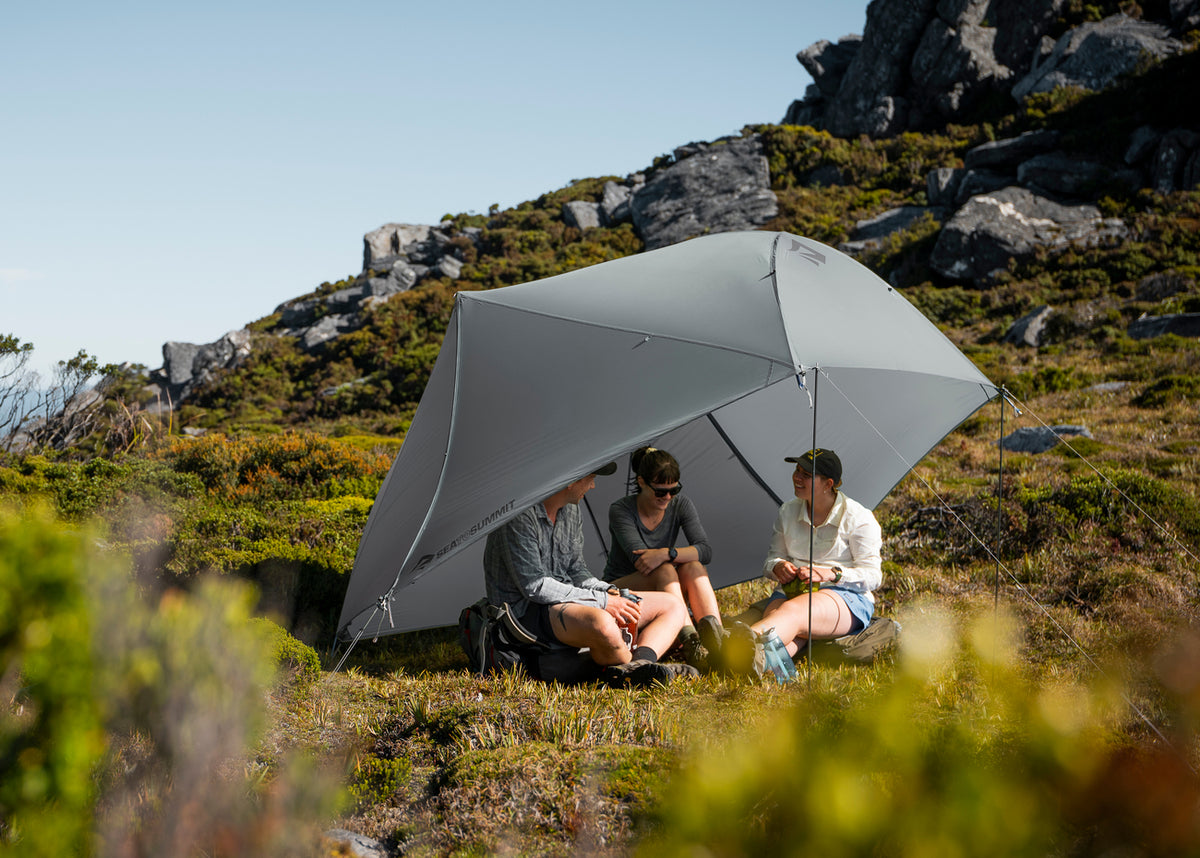 It's no secret that we love to design gear that's versatile. 
When something fulfils a number of roles, it not only earns its precious space (and weight) in your backpack, it means you don't need to buy as much. You don't need to buy a summer sleeping bag if you can just open up your bag using our Free-Flow Zip System. You don't have to purchase an outdoor shower and a water container for your next adventure if you just pack a Watercell X. 
Versatile gear can change the way you camp and make the most of varied conditions. Challenging terrain, humid weather, hiking trips, car camping-we want one bit of gear that can handle it all. Or as much of it as possible, anyway.
This was what was on our minds when we developed the Hangout Mode for our new Telos TR2 and Telos TR3 ultralight backpacking tents 
INTRODUCING HANGOUT MODE TO ULTRALIGHT TENTS 
Hangout Mode is one of our favorite party tricks at camp—allowing you to convert your tent's fly into a semi-open shelter. All you need is a pair of adjustable hiking poles or our Hangout Mode Pole Set. 
'We're pretty chuffed that more competitive card games or jam sessions might happen because of this innovation.' 
The uses of Hangout Mode are as vast as your imagination. You can set it up with your ultralight chairs for a shady pit-stop on your next hiking trip. It's also great for group mealtimes or making the most of  spectacular scenery. It literally opens up a world of possibilities at camp.
What's more, it replaces the need to bring an extra shelter or tarp to camp. That's a win in our books.
HANGOUT OR HUNKER DOWN IN YOUR TENT
There's a certain romance to being alone in the wilderness. But the reality is that a lot of camping trips are spent with friends and family. What we love most about the Hangout Mode is that it allows you to hang out with your mates at camp-then hunker down when the rain rolls in or ifs time to call it a night.
Nothing is less conducive to conversation than being sequestered behind four fabric tent walls. And sometimes that's your only option when you need to be undercover. Hangout Mode, however, is made for socializing at camp. As designers, we're pretty chuffed that more competitive card games or jam sessions might happen because of this innovation. 
'Alto and Telos are designed to overcome that claustrophobic feeling that comes with most ultralight tents.' 
When it's time to turn in for the night, the Telos easily returns to its Classic Mode tent set-up. Just remove the trekking poles, add your tent inner, stake out the vestibules and get cozy for the night.
MAKING ULTRALIGHT BACKPACKING TENTS DO MORE 
The Hangout Mode is the piece de resistance of our Telos tents. A new bit of functionality that will change the way you camp. That being said, both our Alto and Telos ultralight backpacking tents are incredibly versatile.
Both tents allow you to fully or partially peel back your tent fly-perfect for clear nights under the stars. Dry Set-Up means you can pitch your tent in the rain without getting the inner soaked (and take it down while keeping the inner tent dry). The FairShare tent stuff sacks can be clipped into place to create extra storage inside your tent. And our nifty Lightbar allows you to turn your headlamp into a suspended lantern. 
Adjustable Apex and Baseline Vents are another thing that makes these tents the best backpacking tents out there. They help create positive airflow and manage condensation far more effectively than conventional ultralight tents. 
Even in Classic Mode set-up, neither Alto nor Telos feel claustrophobic like most ultralight tents. The unique Tension Ridge architecture means they offer incredible space and expansive views outside. And you can still chat to your mates through the tall doors.
ONE TENT, HEAPS OF POSSIBILITIES 
All these design details change where and how you can use your tent. Better yet, they stop you from buying extra gear you don't need—like a new tent for each different scenario. With features like Hangout Mode, your ultralight tent is just as fit-for-purpose for a fast-and-light backpacking trip as it is for your next car camping trip with friends.
TELOS TR2 PLUS ULTRALIGHT BACKPACKING TENT
TELOS TR3 ULTRALIGHT BACKPACKING TENT
ALTO TR1 ULTRALIGHT BACKPACKING TENT