San Diego's 10 Best Hikes: Your Adventure Awaits!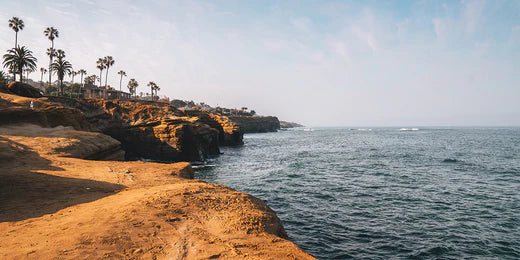 When you visit "America's Finest City," you'll discover it's not all about craft beer and catching the perfect wave. In fact, beneath the city's surface, there are hidden hiking gems waiting to be explored. Whether you're climbing around cultural landmarks or chasing waterfalls that will leave you breathless, these are the top 10 San Diego hikes you'll want to experience – so go ahead, kick off those flip flops and hit the trails!
Cowles Mountain: A Quick City Escape
Running up Cowles Mountain is a San Diego classic. It's the highest peak in town at 1,595 feet, and even though it's just 1.5 miles to the top, don't underestimate the workout it'll give you. You'll be racing to the summit in no time. Plus, with its location and panoramic city views, expect to share the trail with college kids, families, and plenty of four-legged friends.
Palomar Mountain: A Sierra Nevada Experience
Palomar Mountain feels like you've teleported to the Sierra Nevadas. At 6,140 feet, it's one of the highest peaks in the county. The 13-mile round trip is a half-day adventure. If you're up for the challenge, turn it into an evening outing and visit the Palomar Observatory for some serious stargazing.
Sunset Cliffs Natural Park: Romantic Ocean Views
Sunset Cliffs Natural Park, located in Ocean Beach, offers a relaxing and enchanting hike. With 1.5 miles of majestic sea cliffs, tide pools, and ocean breezes, it's perfect for a romantic date. If you visit in the evening, keep an eye out for bottlenose dolphins and seals splashing along the rocks.
Balboa Park Trails: Hidden Urban Gems
Balboa Park isn't just about museums and art. It's also surrounded by miles of hiking trails. With 5 trail options ranging from 1.5 to 6.6 miles, there's something for hikers of all levels. You can wind down canyon paths and traverse lush oak and pine-covered hills right in the heart of the city.
Borrego Palm Canyon: Desert Charm
Anza-Borrego's Borrego Palm Canyon is a quintessential desert adventure. This 3.2-mile trail takes you through cactus gardens, wildflowers, and a bighorn sheep sighting or two. The reward at the end is the third largest palm oasis in California, with colors that only a desert sunset can provide.
Mount Woodson: The Potato Chip Rock Challenge
Locals know Mount Woodson for its iconic "Potato Chip Rock." This 6.4-mile hike is lined with massive boulders, making it quite the challenge. At the summit, you'll be treated to views of Lake Poway and Palomar Mountain. Don't forget extra water, snacks, and your camera for this one.
Iron Mountain: Diverse Californian Beauty
Iron Mountain offers well-marked trails and diverse Californian beauty. The 6-mile hike may lack shade, but it's surrounded by hills covered in purple lilacs and massive boulders. It's a hit with horseback riders and families alike, but starting early is wise to beat the summer heat.
Cedar Creek Falls: A Waterfall Oasis
About an hour northwest of San Diego, you'll find one of the region's best waterfall hikes - Cedar Creek Falls. The 4.2-mile round trip takes you through exposed stretches of land and leads to a punchbowl pool below a 75-foot waterfall. Bring a friend, plenty of water, and prepare to witness one of San Diego's most spectacular waterfalls.
Torrey Pines: Unique Southern California Beauty
Torrey Pines State Reserve showcases the unique beauty of Southern California with 8 miles of hiking. Multiple trails wind through geological wonders, offering panoramic views of the Pacific Ocean. For sunset lovers, there's even a beach trail that leads you right onto the sand. Make sure to check out Razor Point (1.3 miles) and Guy Fleming (0.7 miles).
El Cajon Mountain: The Ultimate Challenge
El Cajon Mountain, also known as "El Cap," is the toughest hike on our list. Used by IRONMAN triathletes for training, this 11-mile trail climbs to a peak of 3,675 feet. Be prepared for steep ascents and descents, especially when it's scorching hot. But the stunning views and sense of accomplishment are worth every step.
Get your hiking boots ready, and embark on these San Diego adventures that will leave you craving more!