Camp Cooking with Terry Bomkamp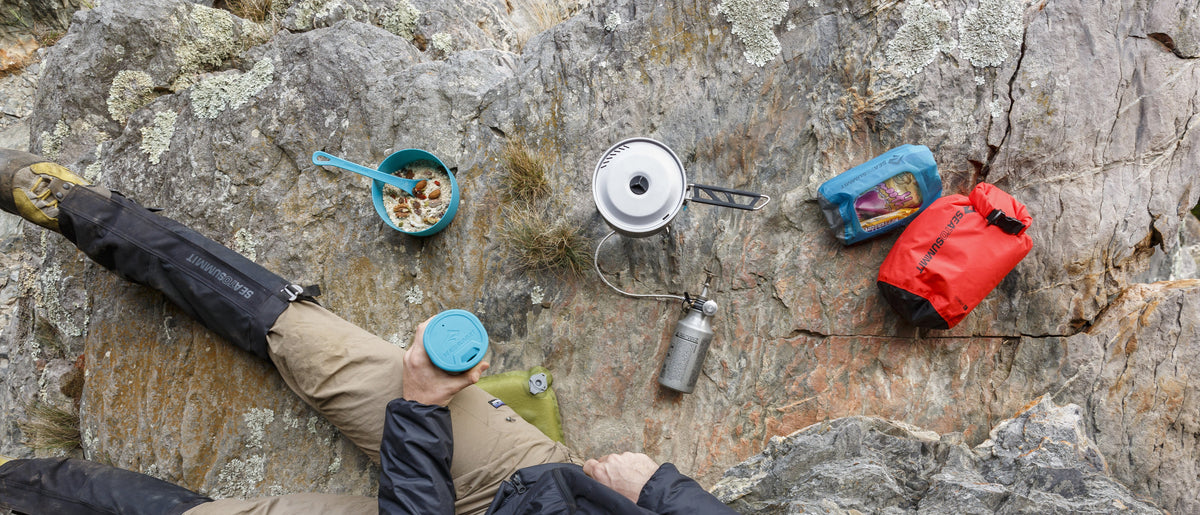 We caught up with Sea to Summit ambassador Terry Bomkamp to ask him a few questions about his love of backcountry cooking…
Terry, over the years you have been the designated backcountry chef for many outdoor adventures. You've also done a fair bit of cooking demos at various retail events. How did your passion for outdoor cooking come to be?
I think that can best be answered by sharing about the early years of my life. In my preteen years, I lived on a dairy farm next to my grandparent's property in southwestern Wisconsin. I recall many trips to the woods with my grandmother gathering wild mushrooms, blackberries, and hickory nuts. Those trips along with walks into the woods with my dad provided a love for the outdoors.  Our family moved into a small rural city shortly after my father drowned in a tragic boating accident. Fortunately, there were plenty of opportunities to get to the outdoors with a small river, swamps, hills and many valleys to explore just down the street from our new home. Being older also provided me the opportunity to build fires, cook hobo dinners, and roast hot dogs over the coals. Throughout high school and college, I remained active in the outdoors. I planned as many camping and canoe trips as possible, especially on summer weekends. Shortly after marrying my college sweetheart we both took up backpacking. Both of our careers were connected to food. I was a general manager in the hospitality industry and my wife Patti was a registered dietitian. We both knew food and how to prepare it; we wanted to integrate that knowledge into our backcountry adventures. Also being newly married and on a tight budget, we wanted to do our meal planning as economically as possible. I soon discovered "Supermarket Backpacker" by Harriett Baker, copyright 1977, and I doubt it's in print anymore. This book inspired me to do my menu planning and recipe development with ingredients off the supermarket shelves.
What is your favorite backcountry dish you like to prepare?
Midnight Mostaccioli by Terry Bomkamp
Ingredients: Serves 2
4 oz raw mostaccioli
2 oz sliced pepperoni
1, 6 oz can of tomato paste, you may dehydrate this to a leather in a dehydrator. Alternatively, you can spray a cooking sheet with cooking oil, place the contents of the tomato paste can on the corner of the cookie sheet approximately 1/8

"

to ¼" thick, put into the oven at the lowest possible setting, and it should be a leather consistency in approximately 4-6 hours. Store leather in a plastic bag in the freezer until ready to use. (This will keep without refrigeration for months if done correctly)
½ tsp garlic powder
1 tbs Italian seasoning or oregano
1/8th tsp of black pepper (note: seasoning amounts listed may be adjusted to suit your taste)
1 tbs olive oil
2 tbs of shredded parmesan cheese
Optional pairings/sides:
A few slices of crusty French bread
1 package of instant lemon pudding mix
Powdered milk for your drink
Directions:
At home: Add seasonings and pasta to ziplock freezer bag. In separate bags add pepperoni and cheese. Bring a small squeeze bottle of olive oil. Place these ingredient bags with olive oil bottle inside another freezer bag. Also, place in the freezer bag a few slices of crusty French bread, an instant lemon pudding mix, and some powdered milk (if desired) and you should have a nice Italian dinner in the backcountry.
At camp:  Bring 2 cups of water to a boil. Add pasta and pepperoni, cook pasta al dente, DO NOT drain pasta. Add oil and tomato paste or leather. Simmer until ingredients are well blended. If using leather, leather will dissolve; stir well. Serve and top with parmesan. The consistency of the sauce will be thicker if you use less water in the cooking process. Pro-tip: Eat this as a hearty soup and use French bread for dipping!
What are some of the cooking utensils that you never leave the house without?  
With Groups of 2 or more- A foldable nylon zippered pantry that contains: multiple plastic vials of seasonings, oils, condiments, Sea to Summit Long Spoon, rubber scraper that doubles as a spatula, small vial of soap, hand sanitizer, small scrubby, bandana, Sea to Summit clothesline, lighter, Sea to Summit X-bowl, (doubles as a cutting board ) and stove parts
Sea to Summit folding water bucket and a Sea to Summit 10 L Pack Tap. (These are great- one trip to the water source and you have enough water dinner, breakfast, and the ability to top off water bottles before hitting the trail for the day)
Newest gear I can't go without is the Sea to Summit X-Pot, (4L size for groups of 4 or more)
Have you ever had a cooking disaster or something not turn out quite right?
Just last month doing a food demo I had baked southwest pepper bread using a backpacking stove and a twiggy fire. I was trying to keep the bread warm during my class and I left the setting on the stove a little too high. I had multiple stoves running and I kept smelling something burning… I didn't figure it out until I removed the bread from the stove and discovered the bottom was pretty toasty. Luckily, the participants were very forgiving and we did enjoy the less crispy parts! Fortunately, I've had enough practice and training over the years that most of my mistakes are fixable.
Have you cooked in any unique or stand out environments or locations?
I think this is a key for a great cooking and dining experience! I always look for a location that is going to provide a great view during meal prep, the meal itself, and… well, past the last dish cleaned and the bear bag is hung.  A few of my favorite locations have been along the eastern shore of Lake Superior, any spot on the AT, and near Big Sur, California watching the fog roll in off the Pacific Ocean. With that being said, you can't leave out any alpine lakeshore in the Rockie Mountains either!
What tips or tricks do you have for other aspiring outdoor cook connoisseurs?
My suggestion is to start simple! Use foods that you are familiar with at home and have prepared often. Some of the easiest least expensive foods available are on your supermarket shelves. Over time invest in good backcountry cooking gear. I like a gas stove that has a simmer control. Some of the foods I like to cook need a low heat option and will need to simmer or be sautéed without burning. An example is when you're baking bread on a backcountry stove- it takes about 45-60 minutes, so you'll need a very low heat setting. Saute pots and pans with non-stick surfaces such as the X-Series work the best and cleanup is much easier. One mug and an eating utensil such as a plastic spork provide the basics without extra weight and bulk.
What's YOUR favorite backcountry cooking recipe? Leave us a comment below!