7 Ways to Manage Tent Condensation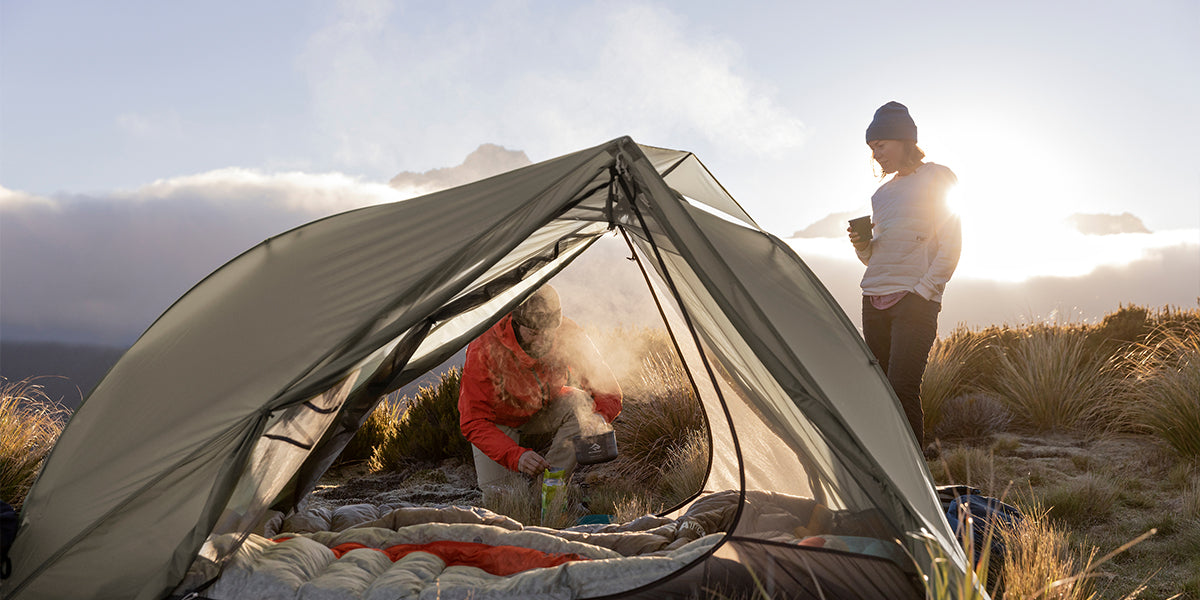 There's nothing quite like the sound of rain drops on your tent. But condensation dripping from your tent ceiling is no fun.
Tent condensation is a camper's worst enemy. While it's impossible to eliminate it entirely, you can keep it in check by following these seven steps.
Before we look at how to keep that tent condensation under control, though, let's talk about how it actually occurs in the first place.
HOW TENT CONDENSATION IS CREATED
It all comes down to your breath. We exhale upwards of one liter of moisture while we sleep. As the warm water vapor hits the (relatively) colder tent walls, it turns into those pesky water droplets we know as condensation. Next thing you know, you're camped out in a steam room.
You really want to avoid condensation as much as possible because a) it's really unpleasant to be stuck in a damp or muggy tent, b) insulation doesn't work as well when it gets damp, and c) left over time, it can create mildew, which is bad news for your tent and potentially even your health.
Here's what to do (and not to do) so you can keep that tent condensation as close to zero as possible:
1. PITCH YOUR TENT IN THE SHADE OF A TREE
When you're looking for a place to set up camp, you want to look for the warmest, least humid spot. Hint: Look for a shady spot under a sturdy tree (seriously sturdy—without the potential for widow-makers to fall on you in the night).
Air under trees is usually warmer than it is in a big open space. This way, the condensation will mostly gather up on the leaves, rather than on your tent.
2. DON'T CAMP RIGHT NEXT TO WATER
We know how tempting it is to set up right next to a babbling brook or a waterhole, but it's not such a good idea. The closer you are to water, the more humidity. The more humidity, the more potential for condensation. You want to be close to water, but not right at water's edge. Pick a camping spot further back from nearby water sources.
If you have the choice between a low and high point on the ground, go for the latter. Cold air tends to pool in dips in the landscape. When that cold air hits the warmer surface of the tent walls, condensation ensues. Remember that heat rises, so it's best to camp on slightly higher ground to keep the temperatures inside and outside your tent in balance.
4. DON'T DRY WET GEAR INSIDE THE TENT
If you get caught in the rain, dry your clothes and shoes outside the tent. If you bring your damp clothes into the tent, you're just creating more humidity. The result? You end up with not only wet clothes, but a soggy tent too! It's a better idea to hang the clothes outside under a tarp (here's a nifty clothesline for just that). And bring a change of clothes. Believe us, it's worth the extra weight.
Speaking of rain: If it's been bucketing down and you don't have time to let your tent dry in the sun before you need to pack up and go, at least give it a wipe down with a towel. Separate the rainfly from the inner tent (the rainfly will likely be far wetter than the inner) and pack them in separate stuff sacks. As soon as you have a lunch break or get to your next base, dry your tent in the afternoon sun.
6. GIVE YOUR TENT PLENTY OF ROOM TO BREATHE
If you have a double-walled tent (most designs are double-walled), ensure that it is pitched correctly to ensure maximum air circulation between the rainfly and the inner wall. Tent condensation gets out of control, and fast, when the walls touch.
7. VENTILATION IS YOUR BEST FRIEND
Roll back the rain fly and vestibule door, open every vent and window so the air in your tent can circulate and dehumidify. Don't forget to let the breeze in either. Set up your tent so the door faces the direction of the wind.
If you follow the above steps, most of the moist air should escape from your tent naturally.
BUT WHAT IF YOU COULD HAVE A TENT THAT COULD MANAGE CONDENSATION FOR YOU?
The hero innovation of our Telos and Alto tents, the Tension Ridge, has made it possible for us to design tents that offer next-level venting that's adaptable to your needs.
APEX VENTS FOR MANAGING TENT CONDENSATION
Given hot air rises, it seems like an obvious thing to position vents at the highest point of a tent. Yet in all our years of camping, we haven't come across any other lightweight tents that get this right. So we've done it. Unlike most tents, the Apex Vent doesn't require a mesh panel to maintain tension across the fly—so all that hot humid air can escape straight out of the top, unrestricted by any barrier.
HIGHER-WIDER DOORS MEANS MORE VENTILATION
The Tension Ridge also allowed us to integrate bigger doors into our tents. As well as giving you a more expansive view, the bigger doors let more air in and out—they also make it easier to enter and exit the tent.
VERTICAL WALLS CREATE MORE BREATHING ROOM
While many other lightweight tents have aggressively tapered walls, the Tension Ridge means our tents have more vertical walls. This means you won't be touching the fabric inner or breathing straight onto the fabric—both of which are likely to result in you and your gear getting wet from condensation.
NEED SOME EXTRA AIRFLOW? HERE'S HOW:
If it's wet, you can orient the foot of the tent towards the wind and open the Baseline Vent. That way, you can increase airflow without accidentally letting the rain in.
When it's hot and humid, orient the head of the tent towards the wind so the Apex Vent can scoop up all that nice fresh air and the natural pressure will force it down and out through the Baseline vents.
We've also made it easy to open and close the vents from the inside of the tent. Cheers to never having to dash out of your tent to shut the vents during sudden onset torrential rain.
WE KNOW MOISTURE IS THE ENEMY
After a long day of hiking, you want to get set up quickly so you can kick back and relax. However, if it's raining when you get to camp, you have to wait for it to stop before you can set up your tent. That's the case with many tents, anyway. With our tents, the rain fly is standalone. You can actually put up the rain fly before the inner fly so everything stays nice and dry (including yourself).
STAYING COOL AND DRY THROUGH THREE SEASONS
Through summer, autumn and spring (and warmish winters), our tents hold up through soggy and humid conditions. When compared to other leading lightweight tents, our Alto and Telos encourage up to 60% more airflow and 31% less humidity—keeping you comfortable even when the elements are against you.
REDUCE TENT CONDENSATION WITH ALTO AND TELOS TENT
When you experience a functional design problem, you can either choose to live with it or innovate. After many nights waking up to dripping tents, we chose to innovate so we could bring you lightweight tents that stay cool and dry: The Alto and the Telos.